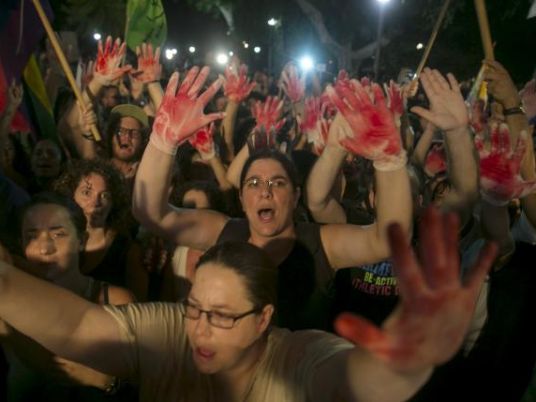 Thousands of Israelis attended demonstrations across the country on Saturday, two days after an ultra-Orthodox Jew stabbed six people at Jerusalem's gay pride parade, leaving one teenager in critical condition.
Large rallies were held in Jerusalem and Tel Aviv and other smaller events elsewhere throughout the country where numerous speakers warned of dire consequences for Israeli society unless authorities take firmer action to root out homophobia.
In a pre-recorded video address intended for the demonstrators, Prime Minister Benjamin Netanyahu said the attack was aimed "at all our children."
"What happened in Jerusalem goes against the spirit of (the Jewish) people… In every society there are extreme, murderous elements and regrettably it is true even among us but society and the state is judged by how the mainstream and the leadership acts … we will continue to lead our country against hatred and homophobia," Netanyahu said.
In Thursday's attack at Jerusalem's gay pride parade attended by about 5,000 people, the stabber lunged with his knife into a group of participants and wounded six people. One teenager remains in critical condition at a Jerusalem hospital.
The suspect, who was remanded for 12 days by a Jerusalem court on Friday, recently completed a 10-year jail term after carrying out a similar attack at the same gay pride parade a decade ago, police said.
Israeli President Reuven Rivlin, spoke in Jerusalem saying: "We must be much more forthright, we must be thorough and clear, starting with education through to law enforcement, in order to extinguish the flames."
Former president, Shimon Peres, told the rally in Tel Aviv that an anti-minority climate had been allowed to fester among extreme elements of Israeli society.
"It should surprise no one that when some call the gay parade a parade of animals, that a 16-year-old girl is stabbed," Peres said.
"Those who incite against Israel's Arabs, should not be surprised that churches and mosques are torched and even a baby is burned in the dead of night," he said, referring to Friday's torching of a Palestinian home in which an 18-month-old baby was killed and other family members severely injured.
Energy Minister Yuval Steinitz was met by a loud chorus of boos during his speech in Tel Aviv and the leader of the ultranationalist Jewish Home party, Naftali Bennett, was asked not to attend for fear of a hostile reception.