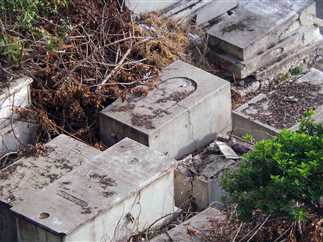 A central committee is preparing to officially register three Jewish cemeteries as antiquities in the Ministry of Antiquities' records, announced Mohamed Mahran, chairman of the Central Department of Jewish Antiquities at the Ministry of Antiquities.
The committee has been preparing a comprehensive report for several days on all the rare and unique monuments and structures in three main Jewish cemeteries for rabbis and Jewish families in the Azarita and Shatebi areas of Alexandria, stated Mahran, who is heading the committee.
In a special statement to Al-Masry Al-Youm, Mahran added that the current meticulous registration requires the selection of unique and rare cemeteries, which include certain structures, and that belong to important Jewish figures or rabbis.
The committee chose about 60 out of thousands of cemeteries as being rare and distinctive compared to the rest. The selected cemeteries will be subject to the Antiquities Protection Law No. 117 of 1983, as amended by Law No. 3 of 2010. 
Each cemetery will be photographed from all four sides, data regarding the deceased will be recorded, including the time of burial, and any inscriptions will be translated. A detailed description of the cemetery will also be written in the ministry's records, according to Mahran.
Most of the Shatebi area cemeteries deserve to be registered on the antiquities list, Mahran added, including temples and villas belonging to 60 most famous Jewish families, such as Jacob Mansha, who built a temple in the area of ​​Manshia and has a street named after him in the Muharram Bey neighborhood.
The committee is preparing its final report on the three Alexandria cemeteries before submitting it to the Standing Committee of Antiquities for final approve of its official registration.
The three cemeteries, which were built on an area of 15 feddans and date back 170 years ago, contain tens of thousands of graves, Mahran said, revealing that one of the cemeteries contains 20,000 tombstones. Another cemetery is characterized by its beautiful appearance and decorations, containing small temple-like graveyards, he added, pointing out that the cemeteries contain more than 60 famous Jewish families, such as the Mancha and Sawiris families.
Edited translation from Al-Masry Al-Youm