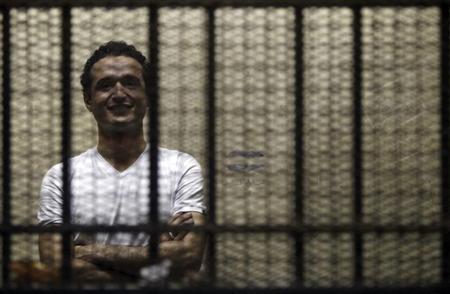 Cairo Criminal Court on Wednesday postponed to 17 September the trial of political activist Ahmed Doma and 268 others in the case known as the Cabinet Events, which took place in December 2011, in order to hear the testimonies of the prosecution witnesses.
The court also referred to the prosecution Osama al-Mahdi, Bilal Mahmoud and Ibtissam Hassan, three lawyers of Doma's defense team, for engaging in verbal altercations with the presiding judge.
Mahdi had refused to sit down or show his permit when the judge ordered him to do so. He also said the court is convening at the Police Corporals Institute that belongs to the Interior Ministry, which renders the session held under exceptional circumstances.
"We face arbitrary measures on the part of the court, which forces us to withdraw," he said.
The court is requesting the interior minister to clarify why his information and documentation assistant did not furnish the digital video recorder previously requested by the court in August to view the second seizure of the case.
The defendants face charges of illegal assembly, possession of knives and Molotov cocktails, attacking army and police personnel, burning the Institut d'Egypte and other government buildings, including the People's Assembly and the Shura Council and attempting to burn down the Interior Ministry.
Edited translation from Al-Masry Al-Youm