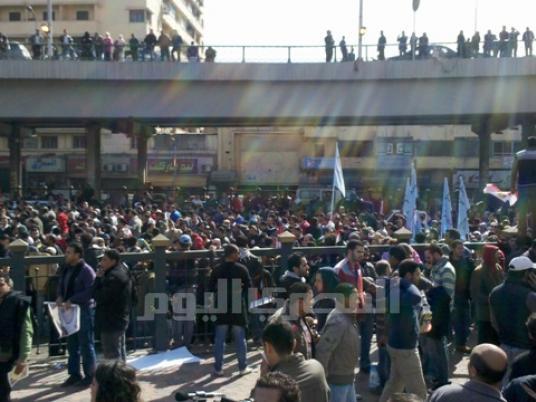 Senior security leaders of Egypt's Interior Ministry on Friday held extensive meetings with security officers in a number of departments across the country to develop comprehensive security plans intended to impose nationwide security and order in anticipation of any acts of vandalism during the seventh anniversary of January 25 Revolution.
Security sources said that the security plans included addressing any attempts to hold demonstrations without permission, committing acts of sabotage, disrupting the interests of citizens, and any manifestations of breaking the law and disturb public security.
The presidential hopeful Khalid Ali has called for organizing a "human chain to raise the images of the martyrs" to hand over people's authorizations for him to run for president at the headquarters of the National Elections Authority. The march is expected to start from Ali campaign's headquarters.
The sources added that legal procedures to address any demonstration without a permit will be taken, even human chains, in accordance with the law governing the cases of crowds and the emergency law in force in the country.
The sources added that the security plans include tightening security measures on all vital institution in the country, especially police headquarters and prisons, in anticipation of attacks against them, as well as alerting the criminal investigation services to thwart any terrorist schemes before they occur, and intensifying the deployment of combat teams.
The sources said that the security apparatuses across the country have tightened their procedures on border crossing points between the provinces, train stations, public transport and the metro network. The units were deployed on roads, axes and important squares and streets to intervene immediately after an emergency.
Edited translation from Al-Masry Al-Youm