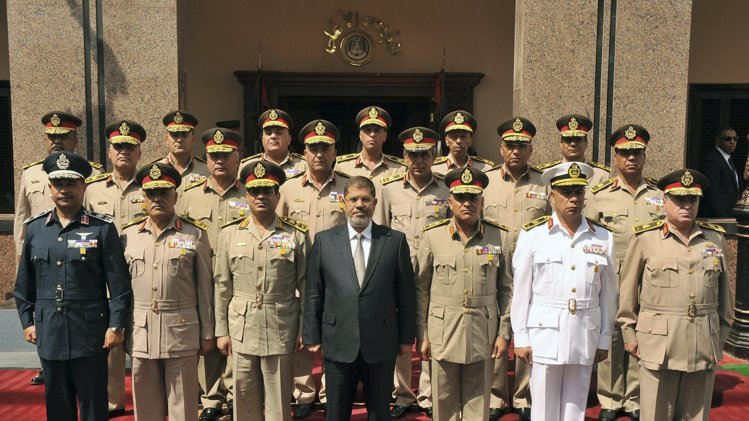 Key developments in Egypt since the army ousted president, Mohamed Morsy.
Wednesday 3 July:
– Defence minister and army chief General Abdel Fattah al-Sisi ousts Morsy and appoints a caretaker president.
– Sisi freezes the Islamist-drafted constitution and calls elections, without setting a date.
– Military police round up Morsy's aides and Muslim Brotherhood leaders.
– Tens of thousands of Morsy opponents celebrate, while his supporters attack security buildings in the north. Seven people killed.
– "I am Egypt's elected president," Morsy says in a pre-recorded speech, and asks Egyptians to defend his legitimacy.
– Morsy and his team put under house arrest.
– US President Barack Obama urges a quick return to elected civilian rule.
Thursday 4 July:
– State media reports arrest warrants issued for 300 Muslim Brotherhood officials.
– Chief justice Adly Mansour sworn in as interim president.
Friday 5 July:
– Muslim Brotherhood Supreme Guide Mohammed Badie tells a pro-Morsy rally "millions" of protesters will stay mobilised until his return.
– Clashes nationwide, mostly in Cairo and Alexandria, kill 37 and injure more than 1,400.
– The African Union suspends Egypt, in line with its rules against unconstitutional government changes.
– Mansour orders the dissolution of the Islamist-led parliament.
Saturday 6 July:
– Thousands of Brotherhood supporters rally in Cairo as the movement's arrested leaders are interrogated.
Sunday 7 July:
– Hundreds of thousands rally across Egypt in support of Morsy's ouster, with Islamists staging rival protests.
– Russian President Vladimir Putin warns the stand-off threatens to degenerate into civil war.
Monday 8 July:
– Fifty-one Morsy loyalists killed and 435 wounded outside the Republican Guard headquarters.
The Brotherhood says soldiers and police "massacred" its supporters during dawn prayers, and its Freedom and Justice Party (FJP) calls for "an uprising" against the military.
– The Nour Party pulls out of talks on a new government in response.
– Grand Imam Ahmed al-Tayyeb of the Cairo-based Al-Azhar, Sunni Islam's highest seat of learning, says he will "remain in seclusion" until the bloodshed ends.
Washington calls for "maximum restraint" from Egypt's military and condemns the Muslim Brotherhood's calls for an uprising.
Tuesday 9 July:
– Mansour issues a proposed interim charter, setting out a blueprint for a political transition and vows fresh elections by early 2014. He will announce the date for presidential elections after the new parliament convenes.
– The decree is rejected by the Muslim Brotherhood.
– The Tamarod campaign, which launched the protests, calls for changes to the charter.
– Liberal economist Hazem al-Beblawi is named prime minister, while the liberal opposition chief Mohamed ElBaradei is named vice president for foreign relations.
– The armed forces warn against any attempt to disrupt the transition.