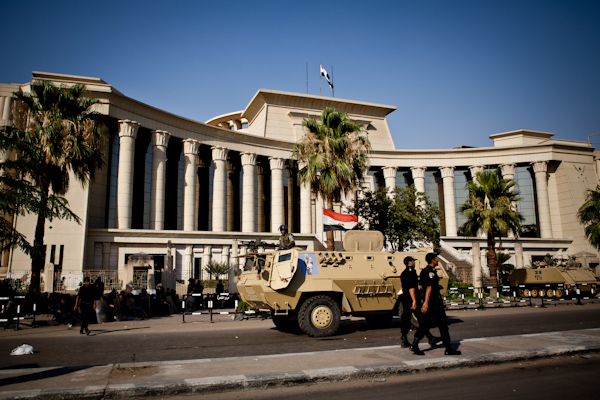 The commissioners of the Supreme Constitutional Court have finished preparing their legal report on the parliamentary elections law, to advise the court's decision on whether the upper house of Parliament is to be dissolved.
The report will advise the court on multiple lawsuits requesting the dissolution of the body, known as the Shura Council, as well as two separate lawsuits filed by former MP Mohamed al-Omda and lawyer Anwar Sobh. Those two cases challenge the court on an earlier verdict that led to the dissolution of the People's Assembly in June.
Judicial sources told Al-Masry Al-Youm that the head of the court will schedule a session within the next two weeks to consider the Shura Council lawsuits, but that the session would not be scheduled urgently.
Adnan al-Shoqairy, who filed a lawsuit demanding the Shura Council's dissolution, said the Supreme Constitutional Court should rule that Article 2 and Article 8 of the electoral law are unconstitutional, since they allowed partisan candidates to compete for seats allocated to independents in the parliamentary elections that concluded early this year.
Shoqairy ran in those elections but lost.
Omda and Sobh filed lawsuits with the Administrative Court challenging the Supreme Constitutional Court's ruling in the People's Assembly case. They said in their lawsuits that the top court's ruling was outside of its jurisdiction.
The Supreme Constitutional Court had ruled in June that some articles of the electoral law were unconstitutional, as partisan candidates were allowed to run against independents for individual seats.
Edited translation from Al-Masry Al-Youm