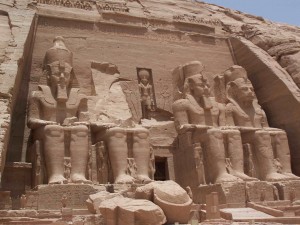 Tourism Promotion Authority Chief Samy Mahmoud has announced the authority's participation in Sunday's "golden jubilee" celebration of the relocation of the Abu Simbel Temple to save it from the rising waters of Lake Nasser.
The event coincides with this year's solar-alignment event, when the sun shines at a particular angle on the stone-carved face of King Ramses II.
The celebration is organized by the Abu Simbel 50 campaign, headed by Hamdy Sotouhy, the engineer who designed the temple salvage operation, in collaboration with the Antiquities Ministry and the Syndicate of Engineers.
The Abu Simbel Salvage process took place between 1964 and 1968 to rescue it from rising water levels resulting from the construction of the Aswan High Dam. The operation is considered one of the biggest archaeological salvage projects in history.
The unique phenomenon of the sun shining at a perpendicular angle on the face of Ramses II is a major tourist attraction, occuring twice a year, in October and February.
A simulation of the salvage operation is to be carried out in the presence of participating fine artists, Mahmoud added.
An exhibition will be held in Abu Simbel town, dispalying several artistic works that illustrate the salvage process.
There will also be a sound-and-light show and a concert performance on Sunday evening.
Edited translation from Al-Masry Al-Youm