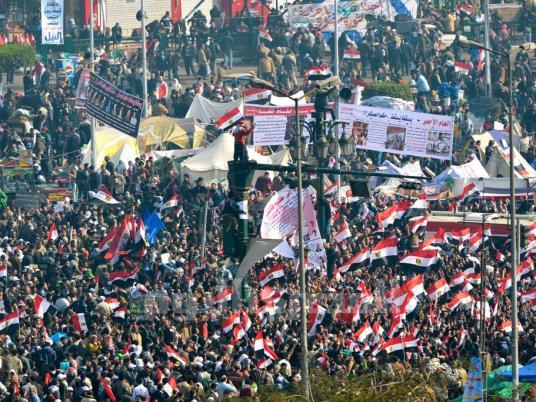 Traffic flowed through Cairo's Tahrir Square on Saturday, a day after a mass protest dubbed the "Friday of Dignity" called for bringing those who killed protesters to justice and handing power to civilians.
Tents were still pitched in the center of the square, where dozens of protesters had gathered ahead of the demonstrations to demand the ouster of the Supreme Council of the Armed Forces (SCAF), now ruling the country.
Egyptians thronged Tahrir and other major squares in cities across the country since Wednesday, to commemorate the 18-day revolt that ousted Hosni Mubarak after 30 years of autocratic rule.
Askar Kazeboon, an anti-military campaign, had also announced plans on its Facebook page to mark the anniversary of the Friday of Anger, when deadly clashes broke out between protesters and security forces on 28 January last year, leading to the death of dozens of protesters and the injury of scores.
Several new marches were planned on Saturday but were expected to be smaller than the vast crowds that took to the streets the day before.
Protesters will march from the homes of those who died on 28 January to Talaat Harb Square in downtown Cairo. The march, titled "Put them on trial," will also involve the screening of a documentary about the martyrs.
Several officers implicated in the killing of protesters have been acquitted.
The protesters will perform afternoon prayers on Qasr al-Nil Bridge and recite the Fatiha, the first chapter of the Quran, for those who died.
The activists called on all revolutionaries joining the march to bring along bullet casings, clothes, helmets and shields taken from security forces during the 25 January revolution.
On Friday, secular protesters in Tahrir clashed with Muslim Brotherhood supporters, and the two sides hurled bottles of water and rocks at each other. Some protesters burned the Brotherhood's flags, accusing it of playing loud patriotic songs to drown out protesters' chants for the end of military rule.
The scuffles were the first time the two sides had come to blows over resentments that have been rising since they worked together during the protests a year ago.
The leftist and secular activists who launched the anti-Mubarak revolt now demand the ruling generals quit power immediately and promise protests to force them out. The Brotherhood, meanwhile, has vaulted to political dominance by winning the largest number of seats in the new Parliament and has shown willingness to let the military follow its own timetable for stepping down.
Earlier on Saturday, 23 political and revolutionary movements issued a statement to call for a swift handover of power to civilians.
The statement called for the formation of a parliamentary committee to organize the presidential election. They also called for opening nominations on 11 February at the latest and conducting the election within 60 days from then.
The Wasat Party, the Coalition of Revolution Youth, the Union of Maspiro Youth, the Popular Socialist Alliance, and Kazeboon were among the statement's signatories.