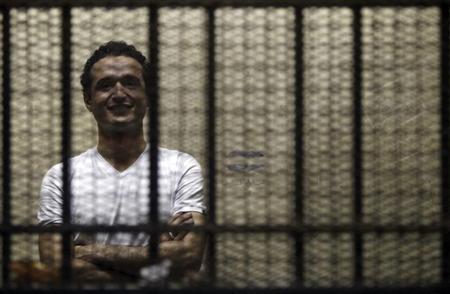 On Wednesday, Cairo Criminal Court postponed the trial of activist Ahmed Douma and 268 others over the 2011 Cabinet clashes case to 15 June until reports by a technical committee are submitted.
The defendants have been accused of assembling without government permission, possessing knives and Molotov cocktails, assaulting armed forces and police personnel, burning the Intsitut d'Egypte, attacking government buildings (including the headquarters of the Cabinet and parliamentary buildings) and attempting to storm and burn the Interior Ministry.
Some are also accused of practicing medicine without a license.
TV presenter Wael al-Ebrashy earlier said in a session that Douma was a patriotic man and that he defended the protesters.
"I was informed that he was attacked by protesters," Ebrashy said. "I did not see it myself, but others told me."
"Douma and other protesters were attacked," he added. "There either was a third party or the attack was carried out by army or police, like protesters said."
Edited translation from Al-Masry Al-Youm