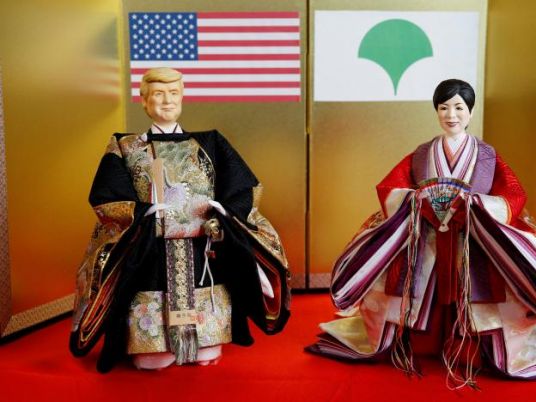 A traditional Japanese doll modeled after US President Donald Trump has raised eyebrows among some Tokyo shoppers ahead of "Girls Day", a holiday meant to celebrate the health and happiness of girls.
The Trump doll, clad in a gold and black kimono with a golden-haired head, was unveiled on Thursday by Kyugetsu Co Ltd, a maker of traditional "hina" dolls for the March 3 holiday.
The day is usually celebrated by families who decorate their homes with an elaborate set of the 60 cm (2 ft) high dolls to wish their daughters health and happiness.
Some customers expressed surprise at the company's decision to include a Trump doll among its four new offerings for Girls Day.
Debbie Walker, a tourist from was buying a set of dolls for her newborn granddaughter.
Walker said she did not see the Trump doll as appropriate, given his comments about women that emerged during the US election last year: "He is not for women or little girls, so I do not support him."
Traditional Japanese dolls depicting US President Donald Trump (2017 offering) and former Democratic presidential nominee Hillary Clinton (from 2016 collection), as part of a traditional set of ornamental 'Hina' dolls used in Japan to celebrate Girls' Day (Toru Hanai / Reuters).
Saori Baba, a 38-year-old mother of a baby girl, said she had watched Japanese television reports about Trump's vulgar comments and it made her uncomfortable.
"I think his sexist remarks in public give an impression that we women are looked down upon. I hope he won't make such comments anymore in public," Baba said.
Each year, Kyugetsu creates Hina dolls modeled on four influential people, two athletes and two politicians. The 2017 offering includes Yuriko Koike, the first female governor of Tokyo.
Hisatoshi Yokoyama, senior vice president of Kyugetsu, defended the decision to add Trump to this year's collection.
"There is talk about his derogatory comments about women, but we made this in the hope that he will make the world better," he told Reuters Television.
Last year, the company displayed a doll of former Democratic presidential nominee Hillary Clinton as one of the "new leaders" expected to guide the world in 2016. Clinton lost to Trump in the November 8 election.
Writing by Kwiyeon Ha; Editing by Darren Schuettle; Reuters