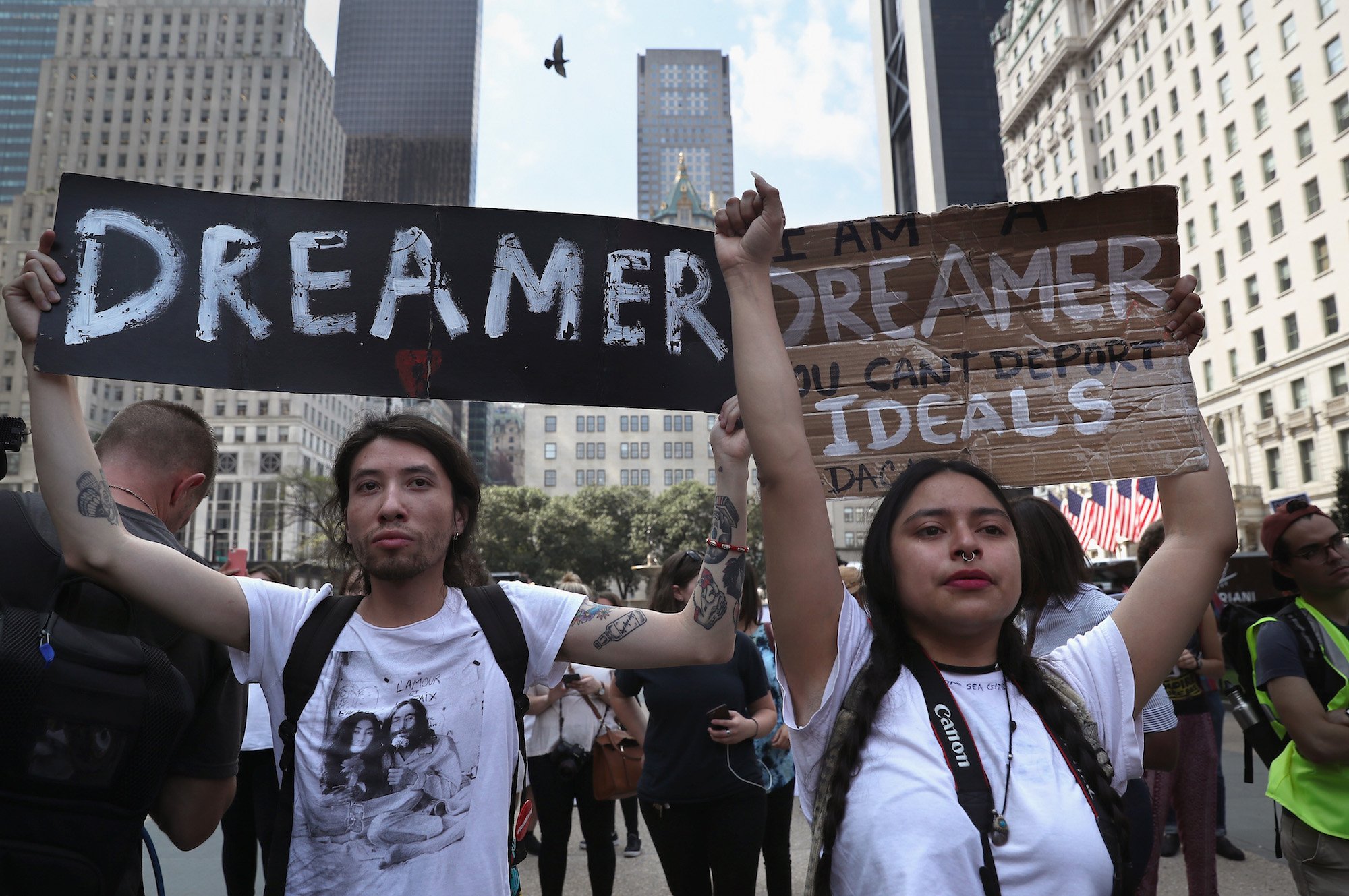 President Donald Trump plans to "revisit" his administration's decision on the Deferred Action for Childhood Arrivals program if Congress is unable to pass legislation on the issue within six months, he announced in a tweet Tuesday night.
"Congress now has 6 months to legalize DACA (something the Obama Administration was unable to do). If they can't, I will revisit this issue!" Trump wrote.
"I am here today to announce that the program known as DACA that was effectuated under the Obama administration is being rescinded," Sessions said at the Justice Department. 
The Trump administration several times Tuesday referred to President Barack Obama's use of executive authority to pass DACA as vulnerable to legal challenges.
"The Department of Justice cannot defend this overreach," Sessions said. "There is nothing compassionate about the failure to enforce immigration laws. Enforcing the law saves lives, protects communities and taxpayers, and prevents human suffering. Failure to enforce the laws in the past has put our nation at risk of crime, violence and even terrorism. The compassionate thing is to end the lawlessness, (and) enforce our laws."
But Trump's Tuesday night tweet seems to imply that the President would be willing to act within his own executive authority if Congress fails to act — leaving the future of the program up in the air. 
The Trump administration's anticipated move toward ending DACA received swift backlash, including from Obama himself.
"Let's be clear: The action taken today isn't required legally," Obama said. "It's a political decision, and a moral question. Whatever concerns or complaints Americans may have about immigration in general, we shouldn't threaten the future of this group of young people who are here through no fault of their own, who pose no threat, who are not taking away anything from the rest of us."
During Tuesday's announcement, Trump's administration said it would continue to renew permits for individuals over the next six months, giving Congress enough time to pass legislation that could extend protections for DACA recipients past the deadline.
Without new administrative or congressional action, nearly 300,000 people could begin to lose their status in 2018, and more than 320,000 would lose their status from January to August 2019.