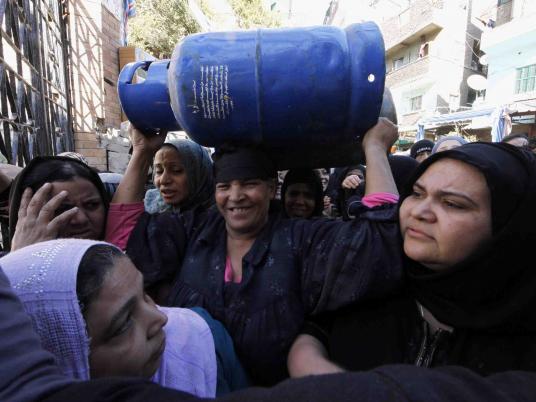 Tuesday's newspapers all run top stories on Egypt's escalating gas crisis, a problem that persists even as government officials continue to deny a shortage.
State-owned Al-Ahram starts off with a report on how the crisis is causing traffic congestion nationwide, accompanied by a photo of long lines of cars at a petrol station.
Reporting on the same issue, party-affiliated paper Al-Wafd highlights rising tensions across the country, which have led citizens to block major arteries such as the Zagazig highway and the main road leading to the Aswan High Dam in protest.
Other stories making headlines in Tuesday's papers include the nomination of Saad al-Katatny for speaker of the People's Assembly, which the Muslim Brotherhood-affiliated Freedom and Justice Party (FJP) announced at a press conference Monday.
Independent daily Al-Tahrir writes that the FJP and Salafi-oriented Nour Party agreed to back Katatny, the FJP's secretary general, to lead Egypt's lower house of parliament.
FJP President Mohamed Morsy also announced in the press conference that the Nour and Wafd parties, which secured the most parliamentary seats after the FJP, will select the two deputy speaker posts, the report adds.
In an opinion piece run on the last page of state-owned Al-Gomhurriya, Samir Ragab urges the new parliament's members to take action to relieve the gas shortage and general price increases around the country.
He stresses that MPs should direct their attention to people's problems "now" before "entering the whirl" of parliamentary post nominations.
Ragab concludes his column by expressing his fears about the role of the new parliament.
"If we do not think from a new perspective and have new visions different from our previous ones," he writes, "Egypt will face the same old scenarios."
"The trial of Mubarak and protesters' killers enters crucial phase," reads a headline on Al-Dostour's front page.
The privately owned paper reports that the defense team of ousted President Hosni Mubarak, his sons Alaa and Gamal, former Interior Minister Habib al-Adly and Adly's six top security aides will present its opening arguments in court Tuesday.
Mubarak, his two sons, and businessman Hussein Salem, who is currently in Spanish custody, are accused of making illicit gains. The former president, along with Adly and his aides, are charged with involvement in killing peaceful protesters during the 18-day uprising early last year.
Various news reports say that Farid al-Deeb, the head defense lawyer, and the rest of the defense team will devote the first five days of their argument to defending Mubarak and his sons, with the remainder of the days for Adly and his aides.
Real estate tycoon and politician Hesham Talaat Mostafa's trial also manages to find space on the front pages, beside the more well-known Mubarak trial.
Independent Youm7 says that an appeals court ordered that Mostafa and Mohsen al-Sukkary receive a retrial, to begin on 6 February.
Mostafa is currently serving 15-year sentence for paying Sukkary to kill Lebanese singer Suzanne Tamim for US$2 million in 2008. Sukkary was sentenced to life in prison.
Another Al-Ahram headline reads, "Negotiations between the government and International Monetary Fund (IMF) without political conditions."
The paper quotes Planning and International Cooperation Minister Fayza Abouelnaga as saying, "Egypt is negotiating with the International Monetary Fund over a loan … aiming to spark the production cycle, provide work opportunities and restore investors' confidence."
Since the outbreak of 25 January uprising that overthrew Mubarak last February, Egypt's economy has suffered and budget deficit deepened.
A delegation of IMF officials visiting Cairo will continue until the end of January. The delegation has not set any conditions thus far for obtaining the proposed $3.2 billion loan.
Egypt's papers:
Al-Ahram: Daily, state-run, largest distribution in Egypt
Al-Akhbar: Daily, state-run, second to Al-Ahram in institutional size
Al-Gomhurriya: Daily, state-run
Rose al-Youssef: Daily, state-run
Al-Dostour: Daily, privately owned
Al-Shorouk: Daily, privately owned
Al-Wafd: Daily, published by the liberal Wafd Party
Youm7: Daily, privately owned
Al-Tahrir: Daily, privately owned
Freedom and Justice: Daily, published by the Muslim Brotherhood's Freedom and Justice Party
Sawt al-Umma: Weekly, privately owned
Al-Arabi: Weekly, published by the Nasserist Party