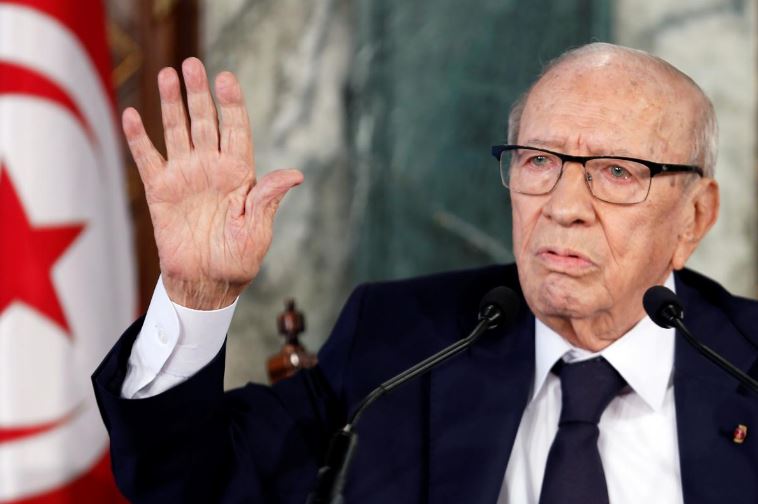 Tunisian President Beji Caid Essebsi speaks during a news conference at the Carthage Palace in Tunis, Tunisia November 8, 2018. REUTERS/Zoubeir Souissi.
TUNIS (Reuters) – Tunisian President Beji Caid Essebsi said on Thursday he was ready to swear in ten new ministers named in a reshuffle that he had originally rejected, easing a high-level political standoff that has alarmed donors.
The ministers include Jewish businessman Rene Trabelsi, who was appointed as minister of tourism for the Muslim Arab country. He is the third of the small minority to enter the cabinet since Tunisia's independence in 1956.
Prime Minister Youssef Chahed had announced the reshuffle on Monday – but Essebsi quickly rejected it, saying he had not been consulted first.
On Thursday, he relented and told reporters he would swear in the ministers if parliament approved the changes. "I have no problem with the prime minister but I dislike the handling of his reshuffle," he said.
The dispute highlighted tensions at the highest levels of Tunisian politics that have been exacerbated by an economic crisis.
Chahed leads a government dominated by the ruling Nidaa Tounes party and backed by moderate Islamists.
But the prime minister has been caught up in a dispute with the leader of the party, Hafedh Caid Essebsi, who is also the president's son and has accused Chahed of failing to tackle high inflation, unemployment and other problems.
The political wrangling has alarmed donors which have kept the country afloat with loans granted in exchange for a promise of reforms such as cutting a bloated public service.
Tunisia's economy has been in crisis since the North African state kicked off the Muslim World's "Arab Spring" uprisings by toppling autocrat Zine El-Abidine Ben Ali in 2011.
Chahed's reshuffle announced on Monday is the 10th major cabinet overhaul since then. He said it would "make the work of government more effective and to put an end to the political and economic crisis".
Chahed kept the leadership of finance, foreign and the interior ministries unchanged.
A former foreign minister under Ben Ali, Kamel Morjan, was named minister in charge of the public service, the country's main employer.
Edited article from Reuters. Reporting by Tarek Amara; Writing by Ulf Laessing; original editing by Andrew Heavens.