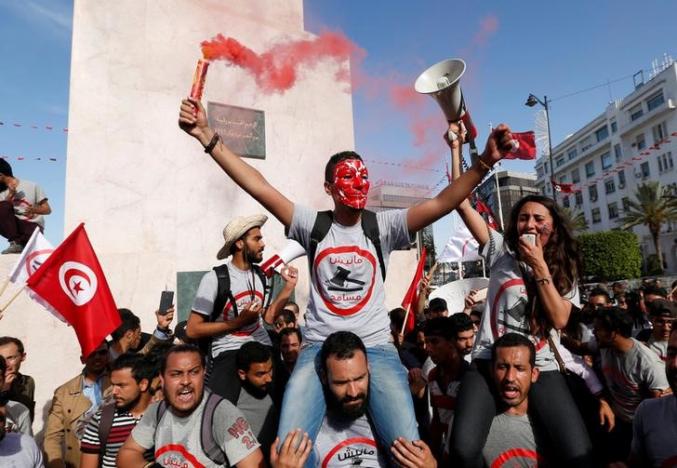 Tunisian security forces firing teargas clashed with protesters on Monday after they burned down two police stations following the death of a young man hit by a police vehicle during protests over jobs in the south.
Unrest in Tatatouine province have escalated into violence after protesters targeted oil and gas facilities to block production and pressure Prime Minister Youssef Chahed's government for work and development in the marginalized region.
"One young man died in the Tatatouine protests. He was hit by a police car in the protest," a Health Ministry source said.
Protesters pressing demands for jobs and a share of the country's energy wealth forced the closure of two oil and gas pumping stations, where Italy's ENI SpA, Austria's OMV AG and France's Perenco operate, and where Chahed had already deployed troops.
State-run Tatatouine Radio said youths had burned out two local police stations during the clashes and police had withdrawn from the town. Images from the town showed burned out vehicles in the street and charred walls of police offices.
Protesters earlier briefly forced the closure of the Vana pumping station in Tatatouine, one of several oil and gas facilities affected over the weekend, after the army allowed an engineer to shut it to avoid a confrontation.
The oil transport association later said it was halting the road transport of oil and products.
Canada's Serinus Energy said on Monday that protests had closed roads to its Sabria field, forcing it to shut in oil production there. It had been producing around 630 barrels of oil equivalent a day.
Serinus had already closed its Chouech Essaida field weeks before. OMV has also removed around 700 workers as a precaution but had said production was unaffected. ENI also said last week output was not affected.
But French company Perenco has closed its Baguel and Targa fields that pump gas and condensate.
The Defense Ministry said on Sunday it would use force to protect and retake southern oil and gas facilities. Clashes broke out at Vana pumping station on Monday when the military took back control to restart the pump, two witnesses said.
Tunisia is a small oil producer with an output of about 44,000 barrels per day.
But the closures represent a clear challenge to the authority of Chahed's government as it tries to enact economic reforms demanded by international lenders and consolidate Tunisia's transition to democracy six years after an uprising ended the autocratic rule of Zine El-Abidine Ben Ali.
Southern and central regions have erupted into rioting and protest several times since the 2011 "Arab Spring" revolt.
Many unemployed youths complain that the fall of former strongman Zine al-Abidine Ben Ali and the transition to democracy bought little economic opportunities for them.
Reporting by Tarek Amara in Tunis; Writing by Patrick Markey; Editing by Tom Heneghan