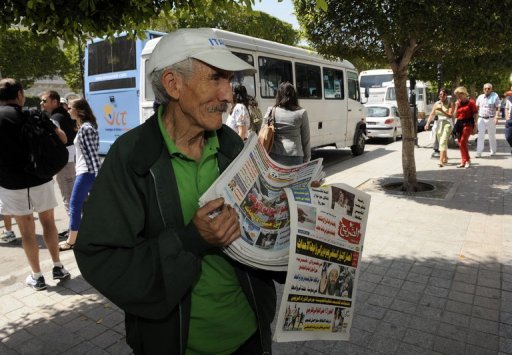 Tunis — Tunisian journalists went on strike on Wednesday, piling pressure on the Islamist government they accuse of restricting freedom of speech after a revolt toppled the country's autocratic leader last year.
Tunisia's once-staid media has enjoyed a new lease of life since the removal of Zine al-Abidine Ben Ali, but activists say the government, led by the moderate Islamist Ennahda party, is now seeking to impose new controls.
The strike, which also involved staff at state-run televisions and news agency TAP, was called by the 1,200-member journalists' union and is the first ever staged in Tunisia.
"The first general strike (by Tunisian media) aims to defend press freedom after we have exhausted the channels of dialogue with the government," the union said in a statement.
Journalists had in the past year demonstrated outside the office of the prime minister to demand an end to restrictions on media freedoms after the appointment of government officials and editors to state television positions.
The government has repeatedly denied accusations it is seeking to stifle the media.
Radio channels broadcast programs about the strike, limiting news bulletins to just the headlines. The union plans to stage a rally later on Wednesday and newspapers are expected to be off the stands on Thursday.
Earlier this week, US-based Human Rights Watch accused the government of failing to crack down on Islamist violence against advocates of secularism including journalists and artists.
"It's a shame that journalists continue to suffer from interferences in their work after the revolution," union member Ziad Hani told Reuters. "The government is trying to sow a climate of fear among journalists through beatings or jail".
"We will not allow a return to the pre-January 14 (revolt) era," Hani added.
Under Ben Ali, the press in Tunisia was among the most repressed in North Africa.
Sami Fehri, owner of private television channel Tounissia, was jailed in August on corruption charges. Journalists and government critics say the real motive lies in a satirical show that poked fun at political leaders, including President Moncef Marzouki and Ennahda's leader RachId Ghannouchi and Prime Minister Hamadi Jebali.
Three reporters at Assabah, Tunisia's oldest newspaper, have been on a hunger strike for almost three weeks to protest the appointment of a new editor they say is close to Ennahda.
The union accuses the government of appointing officials close to Ennahda at the helm of media organizations in order to control them and curb their independence.
The prime minister has denied his government wanted to control the media saying that the government had the right to name officials at the helm of state media organizations.