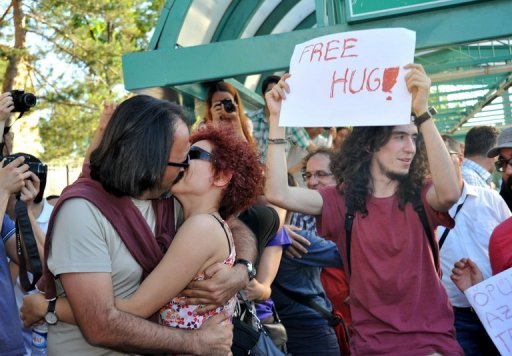 Turkey's prime minister said he had no regard for Europe's "red line" on press freedom on Tuesday and warned Ankara would not be brought to heel with threats, rejecting criticism of the detention of senior journalists at an opposition newspaper.
Police detained the editor and top staff of Cumhuriyet, a pillar of the country's secularist establishment, on Monday, on accusations that the newspaper's coverage had helped precipitate a failed military coup in July.
The United States and European Union both voiced concern about the move in Turkey, a NATO ally which aspires to EU membership. European Parliament President Martin Schulz wrote on Twitter that the detentions marked the crossing of 'yet another red-line' against freedom of expression in the country.
"Brother, we don't care about your red line. It's the people who draw the red line. What importance does your line have," Prime Minister Binali Yildirim told members of his ruling AK Party in a speech in parliament.
"Turkey is not a country to be brought in line with salvoes and threats. Turkey gets its power from the people and would be held accountable by the people."
Prosecutors accuse staff at Cumhuriyet, one of few media outlets still critical of President Tayyip Erdogan, of committing crimes on behalf of Kurdish militants and the network of Fethullah Gulen, a U.S.-based cleric blamed for orchestrating the July coup attempt.
Journalists at the paper were suspected of seeking to precipitate the coup through "subliminal messages" in their columns before it happened, the state-run Anadolu agency said.
Cumhuriyet vowed "we will not surrender" in a front-page headline. Dozens of people staged a vigil in front of its Istanbul offices overnight, some wrapped in blankets as they slept on benches while police guarded barriers outside.
"Even if Cumhuriyet's executives and writers are detained, our newspaper will continue its fight for democracy and freedom to the end," it said in a defiant editorial which described the arrests as the start of an attempt to close the paper.
It said its pages had repeatedly warned that Gulen's movement represented a danger to the Republic and wanted to abolish secularism. The paper said it had in the past been targeted by prosecutors and judges aligned with Gulen.
Enemies of the state
Turkey's authorities have bristled at the Western reaction to the abortive coup, in which rogue soldiers used fighter jets and tanks to attack parliament and other key buildings, killing more than 240 people, many of them civilians.
They see European leaders as quick to condemn widescale purges of suspected plotters, but reluctant to accept the gravity of the putsch and the threat to the state.
"We have no problem with press freedom. This is what we can't agree with our European friends. They always bring up press freedom when we take steps in our fight against terrorism," Yildirim said.
He said Turkey could draft a "limited measure" to bring back the death penalty if a political compromise could be reached on the issue, a move that could spell an end to its efforts to join the European Union.
Crowds have repeatedly called for the re-introduction of capital punishment, which Turkey abolished in 2002 as part of the EU accession process, and Erdogan has said he would approve it if parliament voted for it.
Turkey has classified Gulen's network of followers as the "Gulenist Terror Organisation" (FETO), ranking it as an enemy of the state alongside the Kurdish PKK militant group, which has waged a three-decade armed insurgency, and Islamic State.
Gulen, who has lived in self-imposed exile in the United States since 1999, denies involvement in the coup attempt.
More than 110,000 of Gulen's suspected followers have been sacked or suspended and 37,000 jailed pending trial since the coup attempt. Rights groups say the scale of the purges show Erdogan is using the coup attempt to crush all dissent.
No access to lawyers
The latest detainee on Monday evening was veteran Turkish journalist Kadri Gursel, who began writing for Cumhuriyet in May, bringing the number of those held to 13, the paper said. Three more staff targeted by the investigation are abroad.
It said the detainees, some of whose computers and phones were confiscated, were not being allowed to speak to lawyers for five days under emergency rule imposed after the putsch.
The staunchly secularist paper was established in 1924 by a confidant of Mustafa Kemal Ataturk just six months after he established the Turkish Republic.
Political violence has dogged its history. Seven of its writers have been assassinated since 1978 and some were among those jailed after coups in 1971 and 1980.
Cumhuriyet's previous editor, Can Dundar, was jailed last year, convicted of publishing state secrets involving Turkey's support for Syrian rebels. The case sparked censure from rights groups and Western governments worried about worsening human rights in Turkey under Erdogan.
Since the attempted coup, 170 newspapers, magazines, television stations and news agencies have been shut down, leaving 2,500 journalists unemployed, Turkey's journalists' association said in a statement on Monday.
"We are not going to learn from you what press freedom is. We support it all the way," Yildirim said of European criticism.
"But we won't see criminals, their accomplices, and supporters of the separatist (PKK) and FETO terrorist organizations as innocent. Let the judiciary do its job. If there is nothing on them, then it will come out."