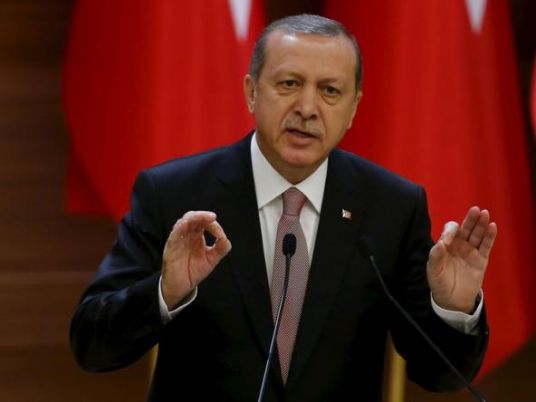 President Recep Tayyip Erdogan has accused an arrested newspaper reporter of being a "German agent." Multiple German cities have banned rallies of support for Erdogan's presidential referendum.
As the spat between Ankara and Berlin becomes increasingly angry, President Recep Tayyip Erdogan called Deniz Yucel, a Die Welt reporter with dual nationality, a "German agent" and a member of the Kurdistan Workers' Party (PKK).
"This person hid in the German embassy as a member of the PKK and a German agent for one month," Erdogan told an awards ceremony in Istanbul on Friday.
Turkey has charged Yucel with propaganda in support of a terrorist organization. Authorities say he spread propaganda for both the banned PKK and the movement of exiled cleric Fethullah Gulen, whom Erdogan has accused of masterminding a military coup in July.
In September, Yucel reported on social media trolls in the service of Turkey's government's, based in part on emails published by WikiLeaks and the domestic group known as Red Hack. The emails, already publicly available, apparently came from the inbox of Erdogan's son-in-law, Berat Albayrak – Turkey's energy minister.
The chancellor responds
Erdogan and his Foreign Ministry have also expressed outrage over decisions on multiple German cities to cancel rallies by Turkish officials. On Thursday, officials in the southwestern German town of Gaggenau called off a meeting that Turkish Justice Minister Bekir Bozdag had planned to address. Also on Thursday, the city of Cologne blocked an event that Turkish Economy Minister Nihat Zeybecki had planned to speak at on Sunday and shortly after a venue in the town of Frechen canceled an invent he had intended to address there.
Officials said they canceled the event in Gaggenau because organizers had misled them about its purpose, apparently originally billing it as a theater performance. Authorities evacuated the city hall for hours on Friday after receiving a bomb threat, the mayor told the German broadcaster n-tv.
Erdogan has increased efforts to rally Germany's nearly 1.5 million Turkish citizens for an April referendum that could expand the powers of his presidency, something he has sought with increased urgency since July's apparent bid to topple him. The president has accused Turkey's NATO allies of failing to condemn the putsch quickly – or strongly – enough. Since the coup, Erodgan's regime has ordered more than 100,000 people arrested, dismissed or sacked for alleged links to the plotters or to the PKK.
Angela Merkel said her government played no part in the municipalities' decisions to cancel the rallies. She also renewed her criticism of Yucel's arrest.
"We support freedom of expression – and we can criticize Turkey," Merkel said. As far as the cancellations, the chancellor said, "we support the decisions that were taken."