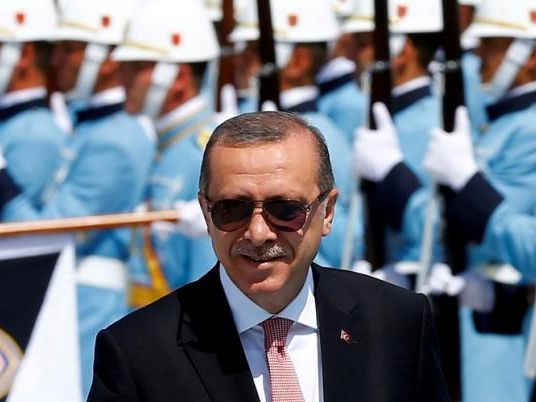 Turkish President Tayyip Erdogan accused the United States of supplying more weapons to Kurdish fighters in northern Syria this week, saying Washington had delivered two plane loads of arms to what Ankara considers a terrorist group.
Erdogan's comments are likely to add to the tension between Turkey and the United States over Washington's support for the Kurdish YPG forces against Islamic State in Syria.
Turkey is part of the U.S.-led coalition against Islamic State but views the Syrian Kurdish YPG and its PYD political wing as an extension of Kurdish militants who have waged a three-decade insurgency on its own soil.
"If you think you can finish off Daesh with the YPG and PYD, you cannot, because they are terrorist groups too," Erdogan said in comments in New York on Thursday which were broadcast on Turkish television. Daesh is an Arabic acronym for Islamic State.
"Three days ago America dropped two plane loads of weapons in Kobani for these terror groups," he said, adding he had raised the issue on Wednesday with U.S. Vice President Joe Biden who he said had no knowledge of this.
The United States, which sees the YPG as a major strategic partner in the fight against Islamic State in Syria, air-dropped weapons to the group in the largely Kurdish town of Kobani in 2014. Erdogan said that half of those arms were seized by Islamic State fighters.
Kobani was besieged by Islamic State for four months in late 2014 and is about 35 km (20 miles) east of the Syrian border town of Jarablus, which Turkey-backed rebels seized a month ago in an operation dubbed "Euphrates Shield".
That operation is designed to clear Islamic State fighters from Turkey's southern border area but it has also brought Turkish and Syrian rebel forces into conflict with the YPG.
Arming the Syrian Kurds
The top U.S. general on Thursday said the military was "in deliberation" about arming the Syrian Kurdish fighters, and acknowledged the difficulty of managing support for the militia with Washington's relationship with Ankara.
"We are in deliberation about exactly to do with the Syrian Democratic Forces right now," General Joseph Dunford told a Senate hearing, referring to a U.S.-backed coalition that includes the YPG.
When asked whether he agreed that arming the Syrian Kurds fighters presented a military opportunity for the United States to be more effective in Syria, Dunford said: "I would agree with that. If we would reinforce the Syrian Democratic Forces' current capabilities that will increase the prospects of our success in Raqqa."
Raqqa is Islamic State's stronghold in Syria.
But Erdogan spokesman Ibrahim Kalin on Thursday ruled out the possibility of Turkey joining an operation by coalition forces against Islamic State in Raqqa if the YPG also takes Kurdish fighters also take part.
The Turkish border town of Kilis was struck on Thursday by three rockets, fired from Islamic State-controlled territory in Syria, which wounded eight civilians including six children, the Turkish military said.