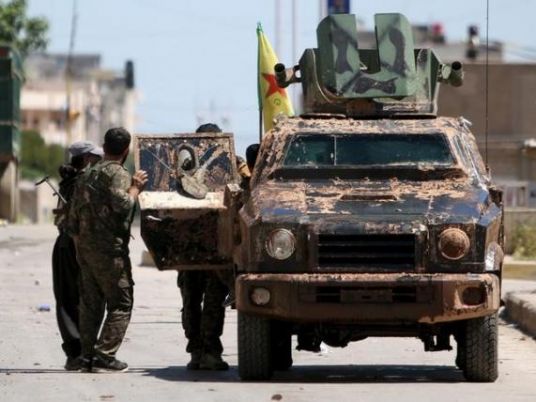 The United States is "two-faced" for refusing to call the Syrian Kurdish YPG militia terrorists, Turkish Foreign Minister Mevlut Cavusoglu said on Friday, reflecting Ankara's growing irritation at Washington's backing of the group.
Photos had emerged purportedly showing U.S. Special Forces wearing YPG emblems on their shoulders, something Cavusoglu said was "unacceptable."
A spokesman for the U.S.-led military campaign against Islamic State said the use of the patches was unauthorized and inappropriate, and the soldiers had been asked to remove them.
"Corrective action has been taken and we have communicated as much to our military partners and our military allies in the region," U.S. Army Colonel Steve Warren told reporters.
NATO member Turkey regards the YPG as an extension of the outlawed Kurdistan Workers Party, or PKK, which has fought a three-decade insurgency for autonomy in Turkey's largely Kurdish southeast. Washington considers the PKK terrorists but backs the Syrian Kurdish militia in the fight against Islamic State.
The YPG is the most powerful element of the U.S.-backed Syrian militia alliance involved in an offensive near the Islamic State's de facto Syrian capital of Raqqa. Aided by U.S.-led air strikes, the YPG has driven Islamic State from wide areas of northern Syria over the last year.
"If they say 'We don't see the YPG and these terrorist groups as the same,' my answer is, that is a double standard and two-faced," Cavusoglu said at a UN summit in Turkey's Antalya resort.
"It is unacceptable for U.S. soldiers to use the insignia of the YPG, a terrorist group," he said.
Ankara had raised the issue with the State Department.
The United States does not consider the YPG to be a terrorist group.
On Friday, U.S. State Department spokesman Mark Toner declined to discuss the photos, saying he did not want to talk about where they were located in Syria.
"We understand Turkey's concerns, and let me make that clear," Toner said. "And we continue to discuss this as well as other concerns that Turkey has regarding Islamic State."
Asked at a briefing on Thursday if it was appropriate to wear such insignia, Pentagon press secretary Peter Cook declined to comment on the photos but said that when Special Forces operate in some areas, they do what they can to blend in with the community to enhance their own security.