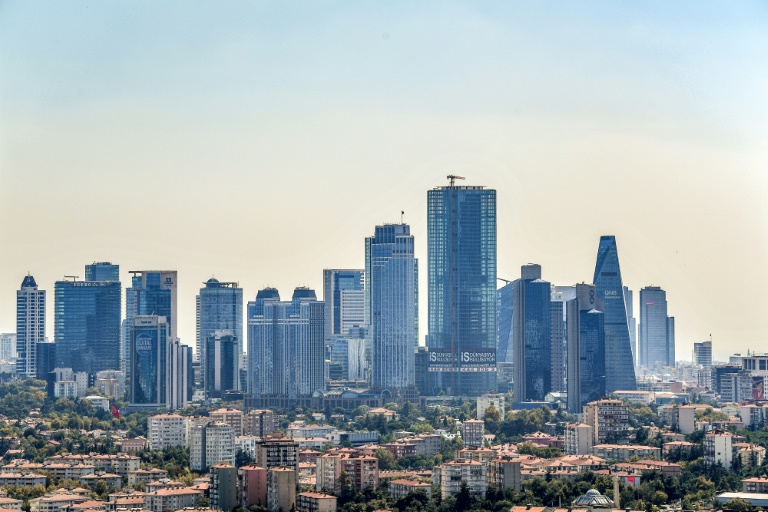 Turkey, which was last month buffeted by its worst currency crisis in recent years, on Thursday forecast sharply lower growth coupled with persistently high inflation in its new medium-term economic programme.
The economy, which grew by 7.4 percent in 2017, would expand by just 3.8 percent in 2018 and then 2.3 percent in 2019, according to figures unveiled at a presentation in Istanbul by Finance Minister Berat Albayrak.
Inflation, meanwhile, would balloon to 20.8 percent at the end of 2018, moderating only slightly to 15.9 percent in 2019, the figures showed.
For 2020 and 2021, the forecasts were more optimistic, with growth seen at 3.5 percent and 5.0 percent, respectively, while inflation is seen moderating finally to a single digit 9.8 percent in 2020 and then a year later to 6.0 percent.
Albayrak, who is a son-in-law of President Recep Tayyip Erdogan, said what he termed the "New Economic Programme" would be based on the three principes of "balancing, discipline, and change".
"Our aim is to write a new success story," he said.
Greater economic prosperity has been one of the pillars of Erdogan's popularity in his over 15 years in power, with the country seeing impressive growth rates in consecutive years.
However economists have warned that the all-out push for growth has led to a potentially dangerous overheating, with inflation rampant, the currency account deficit widening and doubts over the health of the banking system.
These fault lines were exposed in August when a diplomatic spat with the United States caused a crash in the value of the lira, sparking fears of a full-blown economic crisis.
Albayrak said that in 2019 projects whose tender had not been carried out would be "suspended" and vowed Turkey would create two million new job opportunities by 2021.
"We will realise a programme to totally fight against inflation," Albayrak said, highlighting food inflation which has particularly worried Turks.
Markets greeted his assessments as realistic but the lira was trading lightly lower against the dollar at 6.2, a loss of 0.8 percent in value on the day.