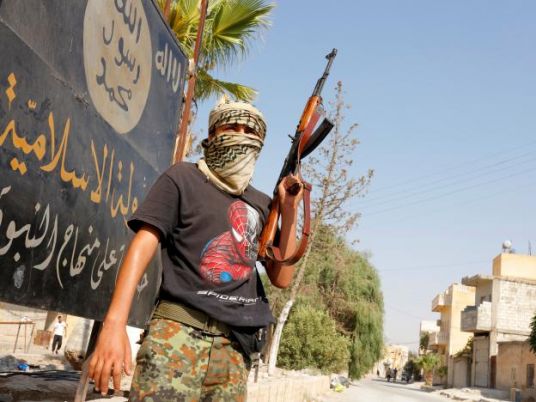 Turkey wants to clear Islamic State from a 90-km (56-mile) stretch of territory on the Syrian side of its border, an official said on Wednesday, a week after it launched an incursion that has strained ties with the United States.
Operation "Euphrates Shield", in which Turkish troops and tanks entered Syria in support of rebels for the first time, began on Aug. 24 with the swift capture of Jarablus, a town a few kilometers inside Syria that was held by the militant group.
Turkish-backed rebels patrolled the town on motorbikes on Wednesday as children played in dusty alleys.
The bulk of Turkish-backed forces have since moved further south into territory held by militias loyal to the Kurdish-aligned Syrian Democratic Forces (SDF), a coalition supported by Washington in its bid to defeat the jihadists.
Turkish clashes with SDF loyalists have alarmed the United States, which has described the Turkish action as "unacceptable" because it hindered the battle against Islamic State.
But Turkey, which is fighting a Kurdish insurgency at home, says that, while it remains intent on clearing Islamist militants from its border region, it also wants to prevent Kurdish militias from seizing territory in their wake.
Turkish presidential spokesman Ibrahim Kalin said the goal was to drive Islamic State from a 90-km strip of land along the border with Turkey, which has been buffeted by a spate of bombings, blamed on the group, that have killed scores.
"Starting from Jarablus, the cleansing of this region is our priority," Kalin told a news briefing. "We have already cleansed 400 square km successfully."
Turkey has long said it wants a "buffer zone" in the area, although it has not used the term during this incursion. As well as driving out the ultra-hardline Islamists, it also wants to prevent Kurdish forces taking territory that will let them join up cantons they control in northeast and northwest Syria.
Turkey frets that seizing such a broad swathe of territory could embolden Kurdish PKK insurgents on Turkish soil.
Thud of explosions
U.S. officials on Tuesday welcomed what appeared to be a pause in fighting between Turkish forces and rival militias, after days when the border area reverberated with Turkish warplanes roaring into Syria and artillery pounded Syrian sites, saying it was hitting Kurdish fighters.
In Washington, a Pentagon spokesman told reporters on Wednesday there had been calm in northern Syria in the past 24 hours.
"We continue to work very closely with our coalition partner and ally Turkey in trying to address their concerns about this situation," spokesman Peter Cook said. "Likewise we continue to work with our partners in Syria to try and keep the focus where it should be," he added.
On Wednesday only the occasional thud of explosions in the distance was audible along the Turkish frontier.
Ankara has denied statements from Kurdish fighters in Syria that a temporary truce had been agreed, saying it would not make any pact with the Kurdish YPG militia, a powerful force in the SDF coalition, as it considers it a terrorist body.
"The Turkish Republic is a sovereign state, a legitimate state. It cannot be equated with a terrorist organization," EU Affairs Minister Omer Celik told state-run Anadolu news agency, adding this meant there could be no "agreement between the two."
Turkey has demanded that the YPG cross the Euphrates river into a Kurdish-controlled canton in Syria's northeast. U.S. officials have threatened to withdraw backing for the YPG if it did not meet that demand, but have said that the Kurdish group has mostly done so.
Turkey's EU affairs minister said some Kurdish fighters were still on the western side and called that "unacceptable."
Eager to avoid more clashes between Turkey and U.S.-backed Syrian fighters, the Pentagon said the U.S.-led coalition against Islamic State was establishing communications channels to better coordinate in a "crowded battlespace" in Syria.
As well as battling Islamic State in Syria, Turkey has been rounding up suspected militants at home. Interior Minister Efkan Ala said the authorities had arrested 865 people since the start of 2016, more than half of them foreigners, preventing them crossing through Turkey's long border with Syria and Iraq.