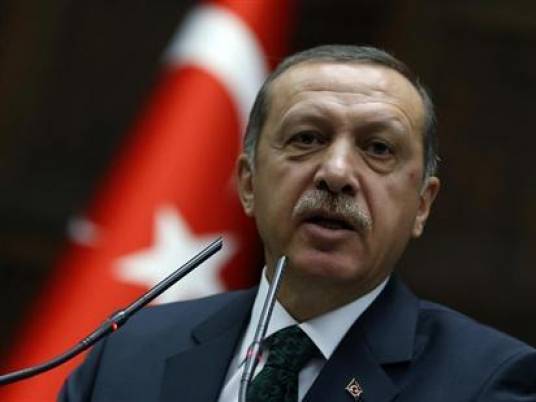 Turkish Prime Minister Tayyip Erdogan's office said voice recordings on YouTube purportedly of Erdogan telling his son to dispose of large sums of money on the day news broke of a graft inquiry into his government were fake and "completely untrue".
Reuters could not verify the authenticity of the audio recordings, which were posted on the video sharing site late on Monday. In the recordings, a voice supposedly of Erdogan can be heard asking his son to remove the money from his home.
The recordings are purportedly of Erdogan and his son Bilal discussing how to reduce the funds to "zero" by distributing them among several businessmen. At one point, the voice supposedly of Bilal says some 30 million euros ($40 million) remain to be disposed of.
The recordings, which appeared two days after Erdogan's AK Party officially began campaigning for local elections at the end of March, may be the latest purported revelation in a graft scandal Erdogan has described as orchestrated to unseat him.
"The recordings, which were released via the Internet this evening, accompanied with the allegation that they were a telephone conversation between our Prime Minister Recep Tayyip Erdogan and his son, are completely untrue and the product of an immoral montage," Erdogan's office said in a statement.
"Those who created this dirty conspiracy targeting the prime minister of the Republic of Turkey will be brought to account within the law," it said.
Erdogan held an emergency meeting with Deputy Prime Minister Besir Atalay, Interior Minister Ekfan Ala and intelligence chief Hakan Fidan after the recordings appeared, senior Turkish officials said.
He was scheduled to address a regular meeting of his party in parliament around 0915 GMT.
The leadership of the main opposition Republican People's Party (CHP) also met and party spokesman Haluk Koc called on the government to resign.
"Turkey cannot continue on its path with this dirt, this burden," Koc told reporters.
Lira slides
The corruption scandal, which erupted on December 17 with the detention of businessmen close to Erdogan and the sons of three ministers, has spiraled into one of the biggest challenges of his 11-year rule.
The lira weakened sharply against the dollar after the new voice recordings emerged and traded at 2.2150 at 0719 GMT, slipping from 2.1750 in late Monday trade.
"Even though the prime minister's office denied the recordings late last night, resignation calls from opposition parties caused a deterioration in risk perception," HSBC strategist Fatih Keresteci said in a note to clients.
Social media and video-sharing sites have been awash with leaked recordings presented as evidence of wrongdoing. As with the latest recordings, Reuters has been unable to verify their authenticity.
Erdogan's supporters say the graft investigation was contrived by a U.S.-based cleric with influence in the police and judiciary in a bid to unseat him ahead of elections this year. The cleric, Fethullah Gulen, has denied involvement.
The government has responded by dismissing or reassigning thousands of police officers, tightening its control over the appointment of judges and prosecutors, and pushing through a new law that allows the authorities to block access to websites within hours without a prior court order.
($1 = 0.7285 euros)