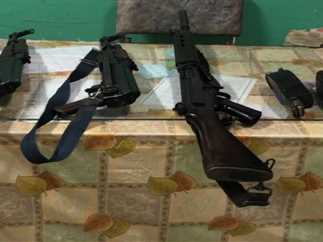 The Interior Ministry announced the killing of two criminals in an exchange of fire with security forces in Daqahlia on Wednesday.
The ministry said Sherbin police station in Daqahlia received communication saying that a fight broke out between two people, one of whom is sentenced to death in a murder case in addition to 30 years in prison over three other cases of attempted murder and robbery.
The first started the fight and attempted to assault the second with a bladed weapon as he believed that the second reported his whereabouts to the police to allow security to arrest him. When the second resisted, he used an automatic rifle to shoot him but the shot mistakenly killed a housewife, who was watching the fight from the window of her house.
The victim, 50, died of a shot in her head.
Investigation revealed that the first defendant escaped and hid in a house in a village in Sherbin. A 29-year-old unemployed  individual who was previously accused of attempted murder, possessing a firearm, beating and other charges accompanied him at the house where they hid. The family of the victim accused the 29-year-old man of accompanying and backing the defendant during the fight.
A security force raided the house where they hid.
When the two criminals sensed the arrival of the forces, they opened fire. Forces exchanged fire with them.
A multi-machine gun, two automatic rifles and bullets were found in their possession and seized by the police.
The two defendants were transferred to the hospital for intensive care but died after arriving because of their injuries.
Public Prosecution was notified and legal proceedings were taken regarding the incident.
Edited translation from Al-Masry Al-Youm