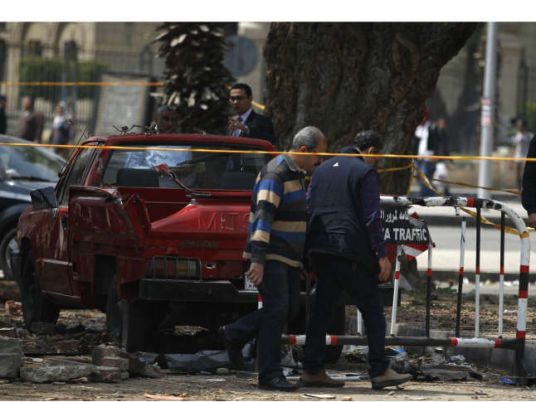 Two Egyptian policemen were killed after being shot by unidentified gunmen in Cairo on Tuesday evening, an Interior Ministry spokesman told Reuters.
"Two unidentified gunmen opened fire on a car carrying Colonel Wael Tahoon in the district of Ain Shams in Cairo while he was on his way to work, resulting in his death and a recruit who was driving the car," Hany Abdel Latif said.
Earlier the website of the state run Al-Ahram newspaper said the two policemen were killed in a bomb attack.
Egypt is facing an insurgency based in the North Sinai that has killed hundreds of soldiers and policemen since mid-2013, when then-army chief Abdel Fattah al-Sisi ousted Islamist President Mohamed Mursi after protests against his rule.
Sinai Province, a militant group that has pledged allegiance to Islamic State, has claimed such attacks in the past but has mainly focused on targets in the Sinai Peninsula, a strategic area bordering Israel, Gaza and the Suez Canal.
Other groups have launched attacks in Cairo and other cities.
There was no immediate claim of responsibility for Tuesday's attack which came after a court sentenced Mursi to 20 years in prison without parole on charges arising from the killing of protesters during his rule earlier today.
Egypt's government says Mursi's outlawed Muslim Brotherhood is a terrorist group, but the movement says it is committed to peaceful activism.