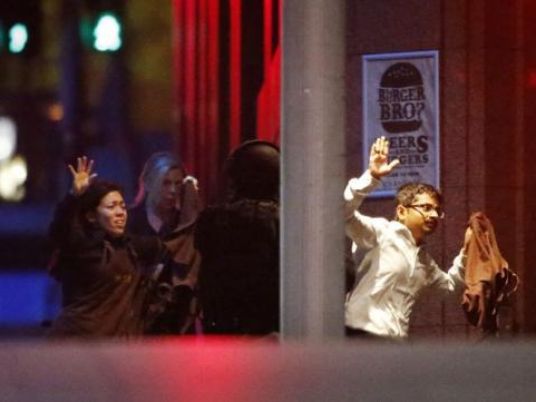 At least two people were killed as heavily armed Australian police early Tuesday dramatically stormed a central Sydney cafe to end a day-long siege sparked when an Iranian-born Islamist took several people hostage.
Security forces in SWAT-style gear intervened, unleashing a flurry of loud bangs and flashes in the eatery in the heart of Australia's biggest city, after a number of the staff and customers managed to flee for their lives.
An AFP photographer saw one body carried out. Australian media said that in addition, the gunman was shot dead by police. Sky News also reported four people were wounded, three of them critically.
Royal North Shore Hospital had admitted a woman in her 40s with a gunshot wound to her leg, a spokeswoman told AFP. She was in a serious but stable condition.
A bomb robot, which is used to detect and disarm explosives, was subsequently sent into the building as police declared the siege over and medics tended to hostages.
"Sydney siege is over. More details to follow," police announced on Twitter.
The hostage­taker, who earlier had unfurled an Islamic flag, was named by ABC television and other media as a 49-year-old Iranian-­born "cleric" called Man Haron Monis.
They published a photo of him sporting a beard and a white turban and said he was on bail for a series of violent offences.
The pre­Christmas siege of the Lindt chocolate cafe began Monday morning and triggered a massive security lockdown in Sydney's financial district as hundreds of police surrounded the site.
Monis's former lawyer Manny Conditsis said the public could be assured that the siege was not the work of an organised terrorist group.
"This is a one-off random individual," he told broadcaster ABC. "It's not a concerted terrorism event or act. It's a damaged­goods individual who's done something outrageous."
The Australian newspaper called Monis a "self­styled sheikh" who had sent offensive letters to the families of dead soldiers and was on bail on charges of being an accessory to the murder of his ex-wife.
It said he arrived in Australia as a refugee in 1996, lived in Sydney's southwest and was "understood to be a fringe Islamist".
Police did not deny the reports. They said they knew who the hostage-taker was but would not identify him with operations continuing.
The government said earlier there was no clear motivation. But the Islamic flag appeared to be one commonly used by jihadist groups bearing the shahada, or profession of faith in Arabic script ­­ "There is no God but Allah; Mohammed is his messenger."
The gunman, reportedly armed with a shotgun, made a series of demands through Australian media but they were removed after police requested they not be made public.
Australia has been on high alert with the government raising concerns that citizens who have fought alongside Sunni jihadists in Iraq and Syria could return home radicalised and carry out "lone wolf" attacks.
Prime Minister Tony Abbott convened a national security meeting to deal with the "disturbing" development.
Some six hours into the siege, three men emerged from the cafe and ran for their lives. Around an hour later two distraught women employees also fled, and then several more people managed to run out late in the night.
One of the escapees was barista Elly Chen whose sister Nicole said on Facebook: "Yessss I finally see you. I'm so glad you're safe!!!!"
Channel Seven reporter Chris Reason, whose office is opposite the cafe, tweeted earlier: "From inside Martin Place newsroom, we've counted around 15 hostages ­­ not 50 ­­ mix of women, men, young, old ­ but no children."
Reason added: "We can see gunman is rotating hostages, forcing them to stand against windows, sometimes 2 hours at a time."
Journalist Chris Kenny, who was in the Lindt cafe just before the siege began, said he understood the automatic glass sliding doors had been disabled.
The scene of the drama, Martin Place, is Sydney's financial centre and houses several prominent buildings, including the New South Wales2 parliament, the US consulate, the country's central bank and the Commonwealth Bank of Australia.
Many shops and offices in the area shut early due to the scare, with only a trickle of people walking along usually bustling streets.
At the nearby Sydney Opera House, which police had swept earlier Monday, evening performances were cancelled.
"It's sad to think this is my home and that it could happen anywhere," said onlooker Rebecca Courtney.
More than 40 Australian Muslim groups jointly condemned the hostage­taking and the use of the flag, which they said had been hijacked by "misguided individuals that represent no one but themselves".
The government in September raised its terror threat level and police conducted large­scale counter­terror raids across the country. Only two people were charged.
More than 70 Australians are believed to be fighting for Islamic militants in Iraq and Syria. At least 20 have died.