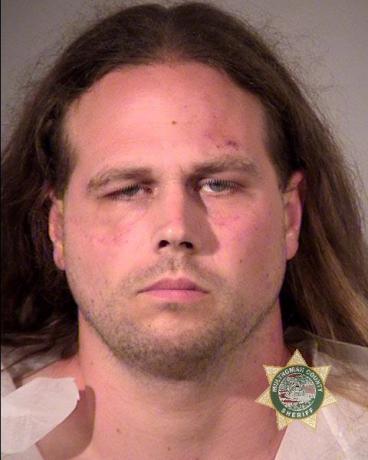 A
man fatally stabbed two passengers aboard a Portland, Oregon, commuter train after they tried to stop him from harassing a pair of apparent Muslim women, police said on Saturday.
The assailant was identified by police as Jeremy Joseph Christian of Portland, a 35-year-old convicted felon. He was arrested soon after the Friday afternoon attack.
The incident unfolded hours before the start of Ramadan, Islam's holy month, when most of the world's 1.6 billion Muslims observe a daily religious fast.
It began when Christian started shouting ethnic and religious slurs, apparently directing them at two young women on the train, one of whom wore a Muslim head covering, the Portland Police Department said in a statement.
Three men who intervened were stabbed. One of them died at the scene while another died at a hospital, and the third was treated for non-life threatening injuries, police said.
The two women left the train before officers arrived and detectives want to speak with them, police said.
Christian was booked into jail on two counts of aggravated murder and charges of attempted murder, intimidation and being a felon in possession of a restricted weapon. He was ordered held without bail.
Police declined to release details of Christian's prior criminal history. But the Oregonian newspaper reported he had been convicted of robbery, kidnapping and weapon charges, citing court records. It was not immediately clear if he had obtained an attorney.
In a statement responding to Friday's attack, the Council on American-Islamic Relations blamed an increase in anti-Muslim incidents in the United States in part on President Donald Trump's focus on militant Islamist groups and anti-immigrant rhetoric.
The administration has said that while it strongly opposes Islamist militants, it has no quarrel with Islam.
A Facebook page that appears to belong to Christian mentions "Jihadi Muslims" among people he disliked. The image on the page matches the photo of Christian released by police after the suspect's arrest.
"If Donald Trump is the Next Hitler then I am joining his SS to put an end to Monotheist Question," a rambling post on January 23 reads.
The page includes images of Christian raising his right hand at a so-called "Free Speech" protest in Portland last month.
Reporting by Alex Dobuzinskis in Los Angeles and Brendan O'Brien in Milwaukee; Editing by Toby Chopra and Tom Brown; Reuters