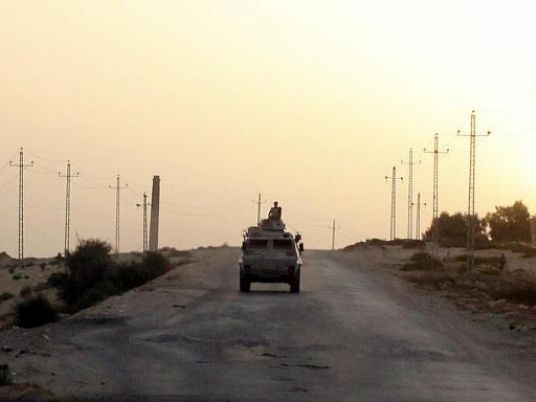 Two policemen were killed and three injured in a bomb blast in Arish city, according to an Interior Ministry statement released on Monday.
The victims were on board a security vehicle driving on the ring road, south of the city.
The fatally wounded policemen were First lieutenant Mahmoud Sediq Ahmed, 30, and Police Sergeant Magdy Shaaban, 45.
Policemen Mohamed al-Sadeq Ibrahim, 30, Ezzat Ahmed al-Shafei'y, 31, and conscript Tareq Hussein Youssef, 21, were injured, and were transferred to Arish military hospital for treatment.
The Interior Ministry media center reported that security services have redoubled their efforts to catch terrorists responsible for such attacks in the vicinity of Arish and Sheikh Zuweid. The armed forces continue to defuse bombs planted at roadsides to target security personnel.
A state of emergency is currently in place in North Sinai as the Egyptian police and army fight insurgency in the northern peninsula. While the forces have claimed many successes in killing and capturing insurgents in recent years through conducting raids with armored vehicles and helicopters, militant attacks on security personnel are a weekly — if not daily — occurrence. Attacks typically take the form of roadside bomb blasts or attacks on military checkpoints.
Edited translation from Al-Masry Al-Youm