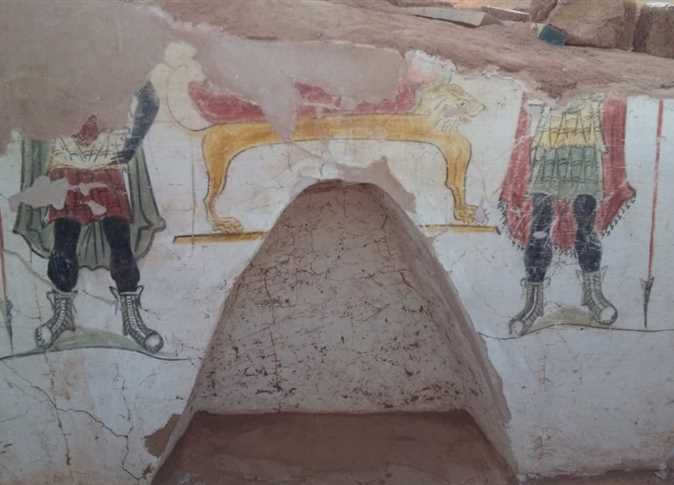 The Egyptian Archaeological Mission of the Ministry of Antiquities operating in the archaeological area of ​​Bir al-Shaghala Mout city, Dakhla Oasis have uncovered two ancient tombs dating back to the Roman era, with colorful and clear funerary drawings on the walls.
The first tomb consists of a staircase of 20 degrees leading to a calcareous altar that leads in turn to a main entrance built of sandstone, leading to the main hall of the tomb which extends from east to west, according to Secretary General of the Supreme Council of Antiquities Mostafa al-Waziry.
He said that the hall was built of bricks and measures 540 cm long, 250 cm wide and 370 cm high. It has a vaulted ceiling, most of which is rundown.
In the northern wall there are two entrances to two burial chambers, on top of which there are two other chambers with an entrance from the east. Skeletons, some pottery lamps and pottery were discovered inside the chambers.
As for the second cemetery, head of the Egyptian Antiquities Sector Ayman Ashmawy said that it is located east of the first tomb.
It is made of bricks and consists of a cross-sectional hall and two side chambers with demolished thresholds, and contains the foundations of a funerary shrine that had an altar of mud bricks and a fireplace. It contained a table for sacrifices of sandstone in front of the door leading to the burial chamber, according to Ashmawy.
This shrine leads to another vaulted tomb, consisting of a staircase leading to a funerary hall that leads into a vaulted room. The northern wall of the tomb was decorated with a unique inscription depicting the process of embalming the cemetery owner.
Ashmawy pointed out that the first archaeological excavations in the region began in 2002 and lasted for five archaeological seasons. Previous discoveries revealed more than ten incomplete tombs built of sandstone and mud bricks. These tombs dated back to the Greek era and are characterized by a unique architectural style of a hierarchical shape. Some of which consisted of three floors, and others of two. The walls of these tombs were decorated with colorful funerary paintings.
Edited translation from Al-Masry Al-Youm