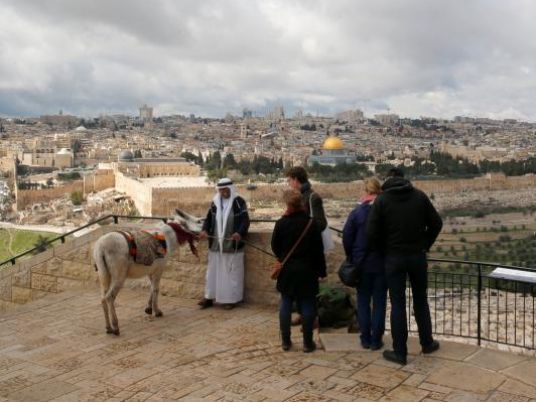 Just days ahead of President Donald Trump's Middle East trip, the Palestinian envoy to the United States said any new Israeli-Palestinian peace push must be based on a two-state solution but that the US administration had yet to present an actual plan for reviving negotiations.
While welcoming Trump's promise to pursue what he has called the "ultimate deal," Husam Zomlot, the Palestinian Authority's new chief representative in Washington, insisted on Monday that any final agreement would have to satisfy the "legitimate aspirations" of the Palestinian people for a state of their own.
Trump, who will meet with Israeli Prime Minister Benjamin Netanyahu in Jerusalem on May 22 and Palestinian President Mahmoud Abbas in Bethlehem on May 23, has stopped short of recommitting to the goal of Palestinian independence, a longtime bedrock of US policy.
But US national security adviser H.R. McMaster suggested on Friday that Trump could move closer to the two-state principle when he meets Abbas, saying the US president will express his desire for "self-determination" for the Palestinian people.
"The best way for peace to materialize is the two-state solution," Zomlot said in a speech to the Arab Center Washington DC think tank.
Trump has yet to articulate a cohesive strategy on how to revive long-stalled talks, and most experts are skeptical of his chances of brokering an accord that eluded his predecessors.
The Palestinians, Zomlot said, were convinced of Trump's desire to "make peace" but acknowledged his approach remained unclear.
Zomlot suggested, however, that could be a positive if Trump can "disrupt" old assumptions about the Middle East peace process that have failed in the past.
"We have had so many plans and it didn't work. So perhaps if we start without a plan, it might work," he said, drawing laughter from an audience of diplomats, journalists and experts.
McMaster did not rule out that Trump might bring Netanyahu and Abbas together during the visit. Zomlot said, however, that it might be "too early for us."
Palestinians were disappointed when Trump failed to mention a two-state solution with Abbas at the White House on May 3. They want a state based on 1967 borders with East Jerusalem as their capital, something Netanyahu has resisted.
Trump drew international criticism in February when, during a news conference with Netanyahu, he appeared to back away from a US commitment to Palestinian statehood, saying he would leave it up to the parties to decide.
An independent state is not only the aspiration of the vast majority of Palestinians but has been the objective of successive US administrations and the international community.
Reporting by Matt Spetalnick; Editing by Jonathan Oatis