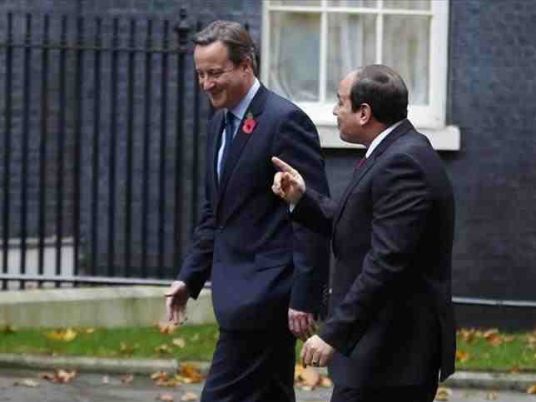 U.K. leader David Cameron has said a delayed British government review into the Muslim Brotherhood organization will be published later this year.
Cameron was speaking amid a visit to his country by Egyptian leader Abdel Fattah el-Sisi. President Sisi became leader of Egypt after the overthrow of Muslim Brotherhood president Mohamed Morsi in July 2013.
In a joint press conference on Thursday Sisi, Cameron said: "In terms of our review of the Muslim Brotherhood, which we discussed today, that will be published later this year and I think you will see, as you are already seeing in Britain, a much more robust approach against extremism, against extremism of all kinds, and against those extremists who stop just short of endorsing violence."
Both leaders claimed that they had excellent discussions on developments surrounding the recent Russian plane crash in Egypt's Sinai peninsula and would work together to restore normal Sharm el-Sheikh flights and ensure foreign tourists' security.
Cameron said that both parties were committed to working together to enhance the safety of departing passengers.
President Sisi said that he was not offended by the U.K. government's decision to cancel fights to Sharm el-Sheikh: "We understood their concern because they are really interested in the safety and security of their nationals."
A large group of anti-Sisi demonstrators outside Cameron's London offices at 10 Downing Street continued a protest during the two leaders' meeting.
Several protesters could be seen carrying banners and chanting slogans against Sisi and the Egyptian regime. British police took strict security measures; a number of arrests were made.