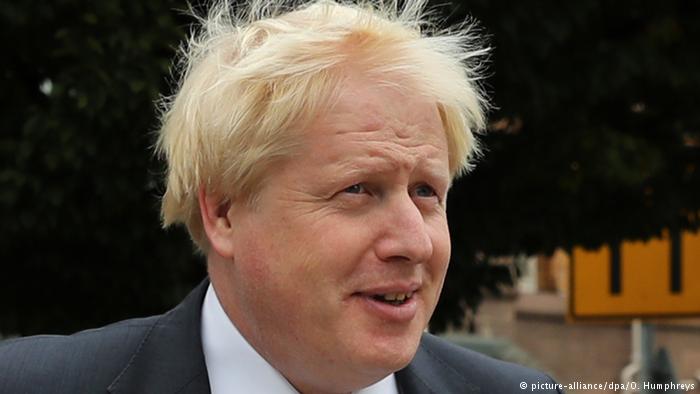 British Foreign Secretary Boris Johnson is making the first visit to Russia by a UK minister in five years. He says he will tell Moscow to "stop destabilizing Europe."
British Foreign Secretary Boris Johnson is holding talks with his Russian counterpart Sergey Lavrov on Friday after years of antagonism between London and Moscow, but says he has little hope that there will be any rapid turnaround in relations, soured among other things by allegations that Moscow is meddling in the politics of various European countries.
Speaking with the Polish news agency PAP, Johnson said that he did "not believe for a second that relations with Russia can be reset."
In a statement released by his office ahead of the talks, the outspoken foreign secretary said that "relations with Russia cannot be 'business as usual' whilst Russia continues to attempt to destabilize European states, including Ukraine."
But the statement also emphasized the importance of talks between the two countries "to solve the world's most pressing global challenges."
Growing differences
London-Moscow relations first took a turn for the worse after Britain demanded, and was refused, the extradition of a Russian security official over the murder by radiation poisoning of Kremlin critic and former spy Alexander Litvinenko in 2006.
Russia's involvement in the conflict in eastern Ukraine, its annexation of Crimea in 2014 and its intervention in the Syria conflict on the side of President Bashar al-Assad dealt further blows to the two countries' relationship.
Concern over the Kremlin's use of cyber tactics and misinformation to destabilize European states has also undermined trust, with British Prime Minister Theresa May accusing Russia last month of "threatening the international world order on which we all depend."
Moscow has also been angered by actions taken by British media regulators against Kremlin-funded news outlets such as RT UK, which have been accused of deliberately disseminating false information.
Russia continues to flatly deny the allegations.
Figure of fun
Johnson himself has come in for mockery in the country, with Moscow's Foreign Ministry spokeswoman Maria Zakharova even organizing an online cartoon competition to make fun of him and calling him unprofessional.
But on Thursday, Zakharova said the "long-awaited"  talks were aimed at "normalizing and activating the bilateral relationship," which she said was cut short only at London's instigation and with no valid cause.
Johnson is expected to use the talks to attempt to resolve what he called "huge differences on Syria" in the interview with PAP. In September, he said Britain would only support a solution that included "a transition away from Assad."
He said he also wanted to discuss working together to preserve the nuclear deal with Iran, the threat posed by nuclear-armed North Korea and security at the 2018 World Cup, which is being held in Russia.