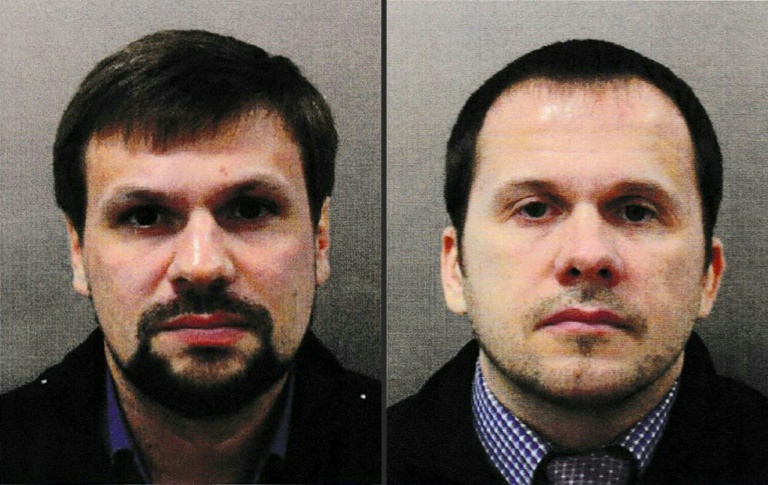 British prosecutors said Wednesday they have a European arrest warrant for two Russians suspected of a nerve agent attack on a former spy in the city of Salisbury.
Police identified Alexander Petrov and Ruslan Boshirov as the men who allegedly tried to kill Russian former double agent Sergei Skripal and his daughter Yulia with Novichok in March.
The Crown Prosecution Service (CPS) said it would not apply for their extradition, as Russia has made clear in previous cases that it did not extradite its nationals.
"We have, however, obtained a European arrest warrant (EAW)," said CPS director of legal services, Sue Hemming.
"(This) means that if either man travels to a country where an EAW is valid, they will be arrested and face extradition on these charges for which there is no statute of limitations," which means the charges never expire.
London and its allies blamed the Russian state for the attack, sparking a wave of tit-for-tat diplomatic expulsions on both sides, while the US imposed sanctions.
A spokeswoman for the Russian foreign ministry said Wednesday it had no knowledge of Petrov or Boshirov, and accused British authorities of manipulating information in the case.
"We once again call on the British side to switch from public accusations and manipulating information to practical cooperation through law enforcement agencies," Russian news agencies quoted spokeswoman Maria Zakharova as saying.
Traveling under aliases
Assistant Commissioner Neil Basu of London's Metropolitan Police — Britain's top counter-terrorism officer — said the two suspects were believed to be in their 40s.
"It is likely that they were travelling under aliases and that these are not their real names," he said.
Basu added that photos of the men were being made public in the hope that a member of the public will recognise them.
He said the pair flew into London's Gatwick Airport from Moscow two days before the Salisbury attack, on Friday, March 2, and stayed at a hotel in the east of the capital.
They paid a day-trip to Salisbury, a sleepy city in the southwest of England, on the Saturday to carry out reconnaissance.
They returned the following day, when they are believed to have smeared Novichok, a military-grade nerve agent developed by the Soviet Union during the Cold War, on Skripal's front door.
They then returned to London and flew back to Moscow that evening from Heathrow Airport.
The CPS said Petrov and Boshirov face charges of conspiracy to murder the ex-spy, and the attempted murder of Skripal, his daughter, and Nick Bailey, a policeman injured in the attack.
They are also accused of using a banned chemical weapon and causing grievous bodily harm to Yulia Skripal and Bailey.
Found in a perfume bottle
Skripal was a colonel in Russian military intelligence who was jailed for betraying agents to Britain's MI6 security service. He moved to England in 2010 as part of a spy swap.
The Skripals and Bailey both recovered from their poisoning.
But on June 30, a British couple fell ill from the same type of nerve agent in the nearby town of Amesbury.
One of them, 44-year-old mother of three Dawn Sturgess, died on July 8.
Her partner Charlie Rowley had found a perfume bottle, falsely labelled as "Premier Jour" by Nina Ricci, which police said contained a "significant amount of Novichok".
Rowley was also hospitalised but discharged, although he later went back to hospital and is being treated for meningitis and loss of eyesight.
The Organisation for the Prohibition of Chemical Weapons (OPCW), a global watchdog, on Tuesday confirmed that Novichok was involved in their poisoning.
British police said Wednesday the case is now part of the Skripal investigation.
"We do not believe Dawn and Charlie were deliberately targeted, but became victims as a result of the recklessness in which such a toxic nerve agent was disposed of," Basu added.