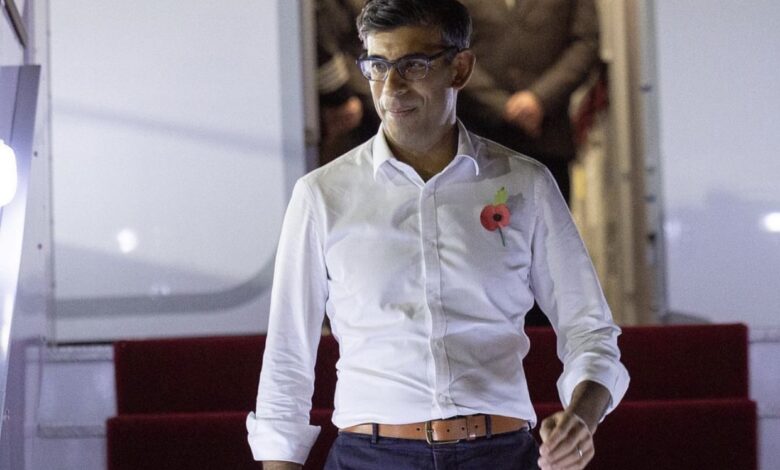 UK Prime Minister Rishi Sunak said that his country will fulfill its financial pledge of 11.7 billion, to face climate change.
During his speech at the climate conference in Egypt on Monday, Sunak said that "the world is facing major challenges in energy security."
"When the world came together in Glasgow last year, nations agreed an historic roadmap for preventing catastrophic global warming. As I travel to COP27 in Egypt today, it is more important than ever that we deliver on those pledges," he added.
"Fighting climate change is not just a moral good – is it fundamental to our future prosperity and security," Sunak said.
Sunak added that there are 33 million people displaced due to widespread diseases resulting from polluted water, and stressed that climate security is interlinked with energy security.
"Russia's invasion of Ukraine and contemptible manipulation of energy prices has only reinforced the importance of ending our dependence on fossil fuels. We need to move further and faster to transition to renewable energy, and I will ensure the UK is at the forefront of this global movement as a clean energy superpower," Sunak said.
The UK Prime Minister met the Egyptian President Abdel Fattah al-Sisi at COP27 in Sharm el-Sheikh, and thanked President Sisi for his country's leadership in hosting this important event.
The leaders discussed opportunities for the UK and Egypt to collaborate further on the transition to renewables, including in developing green hydrogen and mobilizing private investment.
Sunak also discussed activist Alaa Abd al-Fattah's detainment, stressing the UK Government's deep concern on this issue. The Prime Minister said he hoped to see this resolved as soon as possible and would continue to press for progress.
Alaa Abdel-Fattah, a prominent activist in the country's 2011 uprising who has been imprisoned for nine years, stopped drinking water on Sunday as he escalated a hunger strike of more than 200 days.