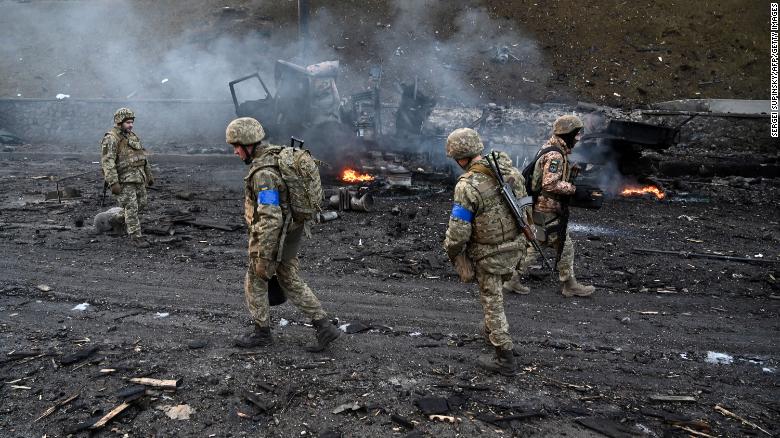 The embassy of Ukraine in Cairo praised Egypt's position toward "the unjustified brutal Russian aggression against Ukraine" in a statement on Wednesday.
"As always, Egypt stands with the truth. Therefore, it was not surprising that Egypt – with all its weight, civilization and wise leadership – denounced the unjustified brutal Russian aggression against Ukraine," the statement said.
"We appreciate this noble position of Egypt, and we extend all the meanings of thanks and gratefulness in all languages ​​of the world in appreciation and gratitude to the authentic people of Egypt …president, and government," the statement read.
"Thank you from the heart to His Excellency President Abdel-Fattah al-Sisi, the leader of the Arab nation, for this generous position, which we truly appreciate, and we will never forget," the statement added.
Egypt affirmed on Tuesday that Ukrainian tourists who could not return to their country would continue to stay in Egyptian hotels.
In a letter Tuesday addressed to hotels in Egypt, Chairman of the Steering Committee of the Chamber of Hotel Establishments in Egypt, Alaa Aqel, said that in order to preserve Egypt's tourism reputation, hotels need to allow Ukrainian tourists to continue staying: agree with tour operators on coverage for accommodation expenses as part of the contract between both sides.
"The Hotel Establishments Chamber calls for the need to abide by what was stated above.
He also emphasized that tourists will continue not to enter as a party to any negotiations, or to demand any money from them, and to treat them well until they return to their country," Aqel explained.
Russian President Vladimir Putin launched on Thursday, February 24, a special military operation in Donbass, southeastern Ukraine and he announced in a speech addressed to the Russian people that the operation aims to protect Donbass.
Putin stressed that Russia will strive to disarm and prevent nationalism in Ukraine, as well as bring to justice those who have committed many bloody crimes against civilians, including citizens of the Russian Federation.