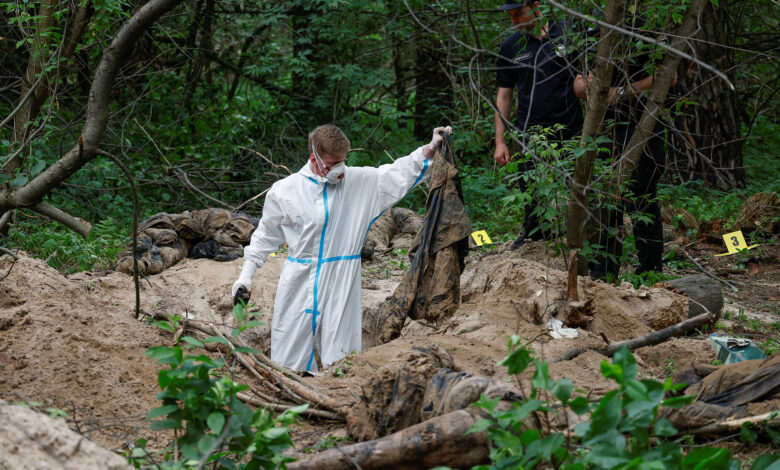 The Ukrainian Prosecutor General says that it is investigating the deaths of seven civilians found with their hands tied behind their backs near the Kyiv suburb of Bucha.
During an investigation of formerly Russian-held positions in the forest near the village of Myrotske, authorities said "the bodies of seven civilians with gunshot wounds and hands tied behind their backs were found in the trenches."
"The pre-trial investigation is being carried out by the Bucha District Department of the National Police in the Kyiv Region," a press release on Monday read.
Ukraine's national police on Monday said that across the country they are still trying to identify the bodies of 1,200 civilians.
"This is a long process, rather painstaking, because a lot of bodies are in a state of putrefactive decay," National Police Chief Ihor Klymenko told Interfax Ukraine. "We select DNA from those relatives who contacted us via the hotline, and then we compare the profiles of these relatives with the profiles of the dead, buried, shot, who could not be identified."
He said that police are currently investigating the deaths of more than 12,000 civilians across the country.
In Bucha, he said, a single mass grave had been found with 116 people. He said that some mass graves were the result of residents who collected corpses from the streets and buried them in nearby parks.