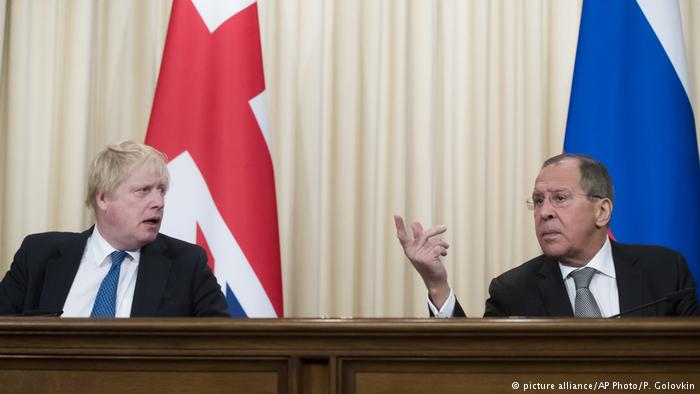 UK Foreign Secretary Boris Johnson has repeated allegations of Russian meddling in Western politics after talks with his Russian counterpart Sergey Lavrov. Ties between the two countries have reached a low point.
British Foreign Secretary Boris Johnson told a Moscow press conference on Friday that London could not ignore Russia's interference in political processes around the world, its involvement in the conflict in eastern Ukraine or the ill-treatment of gay people in the republic of Chechnya.
Johnson, who was making the first official visit by a UK minister to Russia in five years, did not hesitate to repeat allegations that Russia had interfered in elections in Germany, France, the US and other countries, saying there was "abundant evidence" that it had done so.
In a tweet, Johnson said talks also covered the issues of the nuclear deal with Iran, the conflict in Syria, the nuclear tensions with North Korea and bilateral relations.
No 'business as usual'
In a statement on Friday before arriving in Moscow for talks, Johnson had said normal bilateral relations could not exist while Russia persisted in its interference.
"Our relations with Russia cannot be 'business as usual' whilst Russia continues to attempt to destabilize European states, including Ukraine," he said, adding, however, that it was "vital for international security" that the two countries talked.
Russian Foreign Minister Sergey Lavrov told the press conference that Moscow was ready to engage with London on equal terms, although the UK had made "insulting" statements in the past.
"We are ready to develop dialogue on a very wide range of issues on the basis of principles of equality (and) taking into account and respecting each other's interests," he said.
Ahead of the talks, Lavrov admitted that ties between the two countries were "at a very low point" but said that was "not at our initiative.
Lavrov also said the two sides had agreed to discuss the impact of Brexit on trade ties between the UK and Russia.
Deteriorating ties
London-Moscow relations first took a turn for the worse after Britain demanded, and was refused, the extradition of a Russian security official over the murder by radiation poisoning of Kremlin critic and former spy Alexander Litvinenko in 2006.
Russia's involvement in the conflict in eastern Ukraine, its annexation of Crimea in 2014 and its military intervention in the Syria conflict on the side of President Bashar Assad dealt further blows to the two countries' relationship.
Concern over the Kremlin's use of cyber tactics and misinformation to destabilize European states has also undermined trust, with British Prime Minister Theresa May accusing Russia last month of "threatening the international world order on which we all depend."
Moscow has also been angered by actions taken by British media regulators against Kremlin-funded news outlets such as RT UK, which have been accused of deliberately disseminating false information.
Russia continues to flatly deny the allegations.