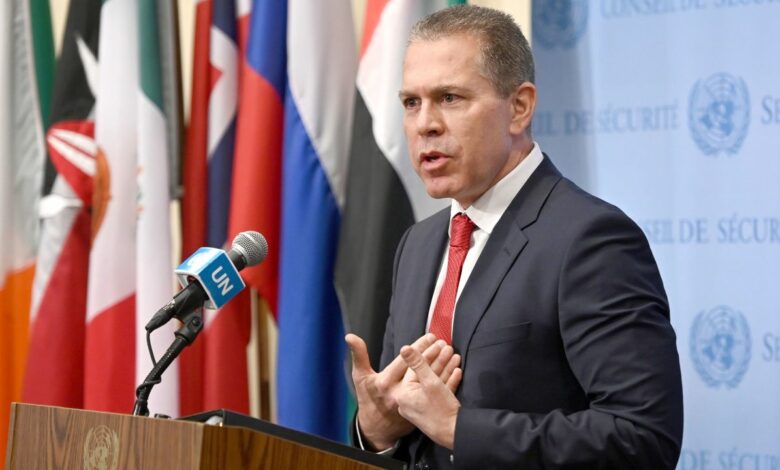 Jerusalem
CNN
 —  A
United Nations
agency that operates in the West Bank and Gaza says Israel is not processing visas for its newly recruited staff, while Israeli officials accuse the agency of "ignoring Israeli victims of terror" in East Jerusalem and the occupied West Bank, a charge the agency denies.
A spokesperson for the United Nations Office for the Coordination of Humanitarian Affairs in the Occupied Palestinian Territories (OCHAoPt) accused Israeli authorities last week of delaying issuing new visas for the agency though adding it remains "engaged with the authorities to resolve the situation."
"We are concerned that this could have a significant long-term impact on ours and the wider humanitarian community's ability to support Palestinians in need," Jens Laerke, OCHA spokesperson in Geneva, told CNN. "The impact on OCHA's facilitation of the response planning for 2023 is already being felt."
Israel's Ambassador to the UN Gilad Erdan said in an interview with Israeli Channel 12 last Wednesday that he had recommended that OCHAoPt visa applications be frozen.
"They shouldn't come in because there's no reason that UN staffers that lie and create a false picture of the Palestinian narrative at the Security Council, there's no reason they should be on such a stage from within Israel," Erdan said.
He told Channel 12 on Wednesday that he advised blocking new visas because the agency "doesn't count as terror attacks Molotov cocktails and stones thrown at Israelis in the streets of East Jerusalem and the West Bank," Erdan said, referring to incidents where Israeli cars and buses driving in the West Bank and East Jerusalem were hit with stones or other objects.
The UN considers East Jerusalem and the West Bank to be occupied territory, and Israelis living there to be living in illegal settlements. Israel disputes that interpretation of international law.
Erdan said when OCHA is asked why they don't count Israeli victims, they are told the agency does not have reliable data.
"Of course you don't, you don't employ Hebrew speakers, and the senior manager of the agency is Palestinian," Erdan said.
OCHA's latest report does record some instances of Israelis being injured by stones thrown at civilian vehicles traveling in the West Bank.
In response to Erdan's assertion, Laerke said: "Reporting is part of OCHA's mandate, and it is crucial for effective response coordination and advocacy in support of people in need. OCHA uses the same protection reporting methodology around the world. It includes verification of data and presents information in a balanced manner."
A spokesperson for Israel's Ministry of Foreign Affairs said the visa issue is "part of a broader discussion with OCHA."
"Israel deplores the one-sided narrative promoted by some OCHA officials, which contradicts the principles of neutrality and impartiality of the United Nations. Israel maintains a dialogue with the agency on the issue," the spokesperson told CNN.
It's been the deadliest year in nearly two decades for both Palestinians and Israelis in Israel and across the occupied West Bank, as victim counts on both sides reach levels not seen in years. At least 166 Palestinians have been killed in the West Bank this year by Israeli forces as of Monday according to the Palestinian Ministry of Health. Israel says most killed were militants or engaging violently with soldiers, although human rights groups, and the UN, say bystanders have been killed as well. The Israeli Ministry of Foreign Affairs and the Israel Defense Forces (IDF) say that as of Monday, at least 31 people have been killed in attacks targeting Israelis so far this year in Israel and the West Bank.
It's not the first time UN bodies have accused Israel of denying visas. In August, now former UN High Commissioner for Human Rights Michele Bachelet said that in 2020, 15 international staff at the commission's Palestine office "had no choice but to leave" because of visa issues.