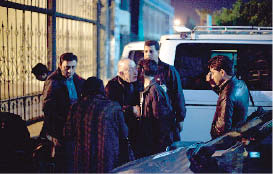 GENEVA – Egyptian authorities have arbitrarily arrested and detained Syrian refugees as sentiment against them grows, the United Nations refugee agency said on Friday.
The climate of hostility has increased since the Egyptian army seized power this month, human rights groups say. More than 90,000 Syrians are believed to have come to Egypt to escape the civil war, now in its third year.
U.N. High Commissioner for Refugees (UNHCR) spokeswoman Melissa Fleming said Syrians had been accused of taking part in protests supporting Islamist President Mohamed Morsy, who was toppled by the army on July 3.
The UNHCR had requested access to 85 detained Syrians and assurances that they will not be returned to Syria, she told a news briefing.
"There were a few who were arrested for alleged violent acts during protests. We're not sure what the charges are for the others," she said.
Morsy last month announced he was cutting off diplomatic ties with Syria, and some of his Sunni Muslim followers had talked of waging holy war against Syrian President Bashar al-Assad, who is backed by Shi'ite Muslim Iran and the Lebanese Shi'ite Hezbollah militia.
The new army-backed administration in Cairo has distanced itself from Morsy's position.
But Egyptian media and television have made "disturbing" statements against Syrians, Fleming said.
"We're obviously very concerned when big public communications machines like television are behind some of this rhetoric that is very xenophobic," she said.
The hostile environment has led to surge in the number of Syrians already in Egypt approaching UNHCR to register as refugees, she said. The government estimates that there are up to 300,000 Syrians currently residing in the country, she added.
The Egyptian government has introduced entry requirements for Syrians, requiring that visas and security clearance be issued prior to travel to Egypt, the agency said.
Flights carrying Syrians have been turned back from airports in Egypt to Damascus and Latakia in Syria, she said. Some 476 Syrians had been deported or denied entrance to Egypt since the new measures were put in place on July 8.
"UNHCR has appealed to the government to consider at least allowing women, children and the elderly to enter the country without the visa restrictions," Fleming said.