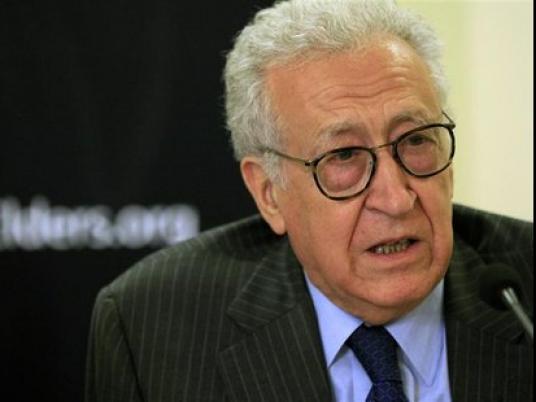 The UN-Arab League negotiator for Syria called on Sunday for outside help to get the warring parties talking to each other, without which he said the country's 21-month civil war would not end.
Speaking in Egypt after visiting Moscow and Damascus in the past week, Lakhdar Brahimi said the situation in Syria had deteriorated sharply, but a solution was still possible under the terms of a peace plan agreed in Geneva in June.
"The problem is that both sides aren't speaking to one another," he said. "This is where help is needed from outside."
Brahimi has struggled to bridge the mutual hostility between Syrian President Bashar al-Assad and his foes, and efforts to find a negotiated settlement to the conflict, which has claimed at least 44,000 lives, have failed to make headway.
Addressing reporters at the Cairo headquarters of the Arab League, Brahimi said the Syrian state would collapse without a negotiated solution and turn into "hell"
The peace plan has stalled on demands by the opposition that Assad be excluded from any transitional government, and Brahimi now cuts an unpopular figure among the rebels, who have been emboldened by their advances on the ground.
"I say that the solution must be this year: 2013, and, God willing, before the second anniversary of this crisis," he said.
The Geneva agreement, which leaves Assad's fate unclear but includes a cease fire and steps toward elections, was negotiated by Brahimi's predecessor Kofi Annan, who later quit in frustration at divisions in the UN Security Council.
"A solution is still possible but is getting more complicated every day," said Brahimi. "We have a proposal, and I believe this proposal is adopted by the international community."
A day after Egyptian leader Mohamed Morsy said Assad's office had no place in Syria's future, Brahimi met Egyptian Foreign Minister Mohamed Kamel Amr, who dismissed the possibility of a military resolution, state media reported.
"The situation in Syria is bad, very, very bad, and it is getting worse, and the pace of deterioration is increasing," Brahimi told reporters.
"People are talking about Syria being split into a number of small states … This is not what will happen. What will happen is Somalization: warlords." Somalia has been without effective central government since civil war broke out there in 1991.