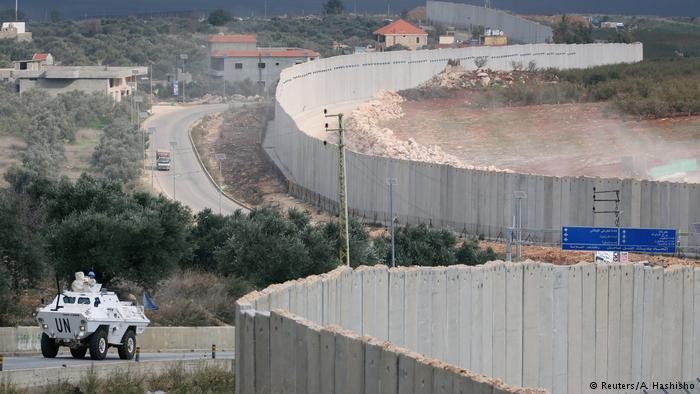 The UN peacekeeping force UNIFIL has confirmed the existence of tunnels under the Lebanon-Israel border. The announcement comes as the Lebanese and Israeli armies had a tense standoff along the border.
The UN peacekeeping force on the Israel-Lebanon border said Monday that two of four tunnels allegedly dug by Hezbollah crossed the demarcation line between the two countries in violation of a UN resolution that ended the 2006 war.
The UN Interim Force in Lebanon (UNIFIL) said it had confirmed the existence of four tunnels found by Israel earlier this month, two of which crossed the Blue Line border demarcation between the two countries.
"UNIFIL at this stage can confirm that two of the tunnels cross the Blue Line. These constitute violations of UN Security Council resolution 1701," it said in a statement.
Lebanon and Israel are technically still at war. Israel and Hezbollah, which has an armed wing stronger than the Lebanese army, last fought a war in 2006.
President Michel Aoun, a political ally of Hezbollah, has said he is committed to upholding Security Council resolution 1701, which bans non-Lebanese state forces operating between the Litani River and the UN monitored Blue Line.
Border standoff
The Lebanese military went on high alert Monday when Lebanese soldiers confronted Israeli troops unrolling barbed wired along the border, according to Lebanon's state-run National News Agency and a video.
The incident occurred near the southern village of Mays al-Jabal as Israeli troops installed 200 meters (yards) of wire near the border. Lebanese troops protested and "UNIFIL troops were deployed in the area to defuse the situation, prevent misunderstandings and maintain stability," UN peacekeeping spokesperson Andrea Tenenti said.
Israel announced earlier this month it had unearthed Hezbollah-built tunnels dug under the border designed to carry out attacks. Israel said it held the Lebanese government responsible.
The tensions come as Israel has carried out dozens of airstrikes in Syria on suspected Iranian missile shipments to Hezbollah, which has fought on the side of Syrian President Bashar al-Assad in the country's civil war.