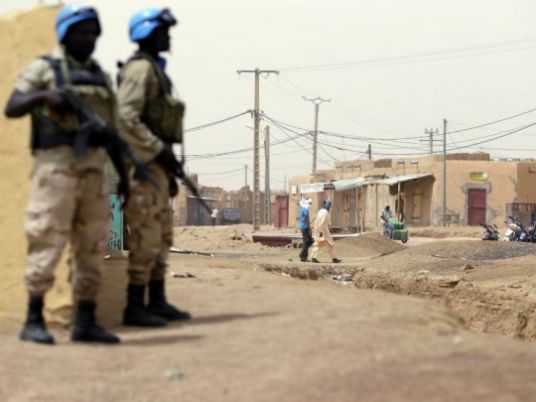 At least three people, including a UN peacekeeper, were killed when unknown attackers fired dozens of rockets towards a UN base on the outskirts of the north Malian town of Kidal early on Sunday, a witness and security sources said.
The witness counted more than 40 weapons fired in the direction of the base. At least one shell fell on a nearby camp for Tuareg nomads, killing two people and injuring several children, he said.
Security sources said a UN peacekeeper was killed and several were injured in the attack, which took place shortly before dawn.
UN and French troops inside the Kidal base returned fire and calm has now returned, they said.
A spokeswoman for the UN mission to Mali known as MINUSMA declined to give an immediate comment. A French army spokesman could not be reached for immediate comment.
It was not immediately clear who was behind the assault, although Kidal is the cradle of northern Mali's Tuareg separatist movement, which has launched several uprisings from the region since the 1960s.
Tuareg and Arab militias have forged a
peace agreement
with the Malian government formulated earlier this month in Algiers, although several rebel groups are yet to sign.
Al Qaeda in the Islamic Maghreb and other jihadist groups have also carried out operations in Kidal, including the 2013 murders of French journalists
Ghislaine Dupont and Claude Verlon
.
The incident comes a day after a
rare attack
in a restaurant of Mali's capital Bamako, which killed five people, including two foreigners, highlighting continued volatility in Mali two years after France helped retake territory from al Qaeda-linked militants.