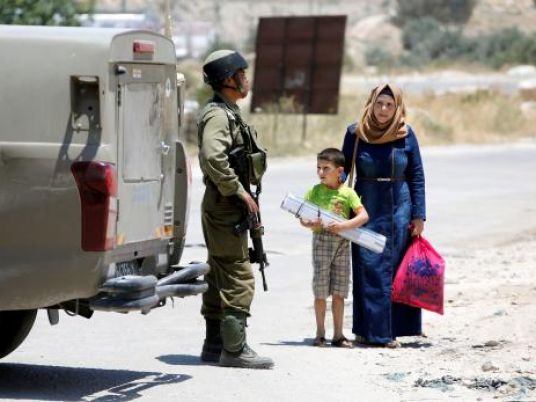 Israel's cancellation of entry permits for Palestinians following a deadly attack in Tel Aviv may amount to collective punishment, which is banned under international law, the United Nations' top human rights official said on Friday.
Responding to the criticism, Israel defended its actions as "legitimate steps in order to defend its citizens from terrorists".
The Israeli military on Thursday revoked permits for 83,000 Palestinians to visit Israel and said it would send hundreds more troops to the occupied West Bank a day after a Palestinian gun attack that killed four Israelis in Tel Aviv.
U.N. High Commissioner for Human Rights Zeid Ra'ad Al Hussein condemned the attack, the largest loss of Israeli life in a single attack since the current surge in violence, spokeswoman Ravina Shamdasani said.
But he is deeply concerned about the revoking of permits "which may amount to prohibited collective punishment and will only increase the sense of injustice and frustration felt by Palestinians in this very tense time", she told a news briefing.
Israel's actions included the suspension of 204 work permits held by individuals in the extended families of the alleged attackers, she said, and Israeli security forces sealed off their entire hometown.
The Geneva Conventions say that punishing people for crimes they have not personally committed can amount to collective punishment, Shamdasani said.
Israel's diplomatic mission in Geneva said the comment by Zeid's office OHCHR "breaks a new record of cynicism and double standards".
"The OHCHR is using the murder of innocent Israelis to attack Israel. Once again, instead of putting itself by the side of the Israeli victims, it settles for a forced, weak condemnation, and rushes to defend the terrorists," it said.
"Like any other country in the same situation, Israel is taking legitimate steps in order to defend its citizens from terrorists who are backed by the incitement and the glorification of death and martyrdom, inflated by the Palestinian leadership and society," it said.
Israel has an obligation to bring those responsible to account for their crimes, which it was doing, Shamdasani said.
"However, the measures taken against the broader population punish not the perpetrators of the crime, but tens — and maybe hundreds — of thousands of innocent Palestinians," she said.
The entry permits had been issued to Palestinians from the Israeli-occupied West Bank to visit relatives during the Muslim holy month of Ramadan now in progress.
There was no immediate claim of responsibility for the assault by the two gunmen on Wednesday in a fashionable shopping and dining market near Israel's Defence Ministry, but Hamas and other Palestinian militant groups were quick to praise it.