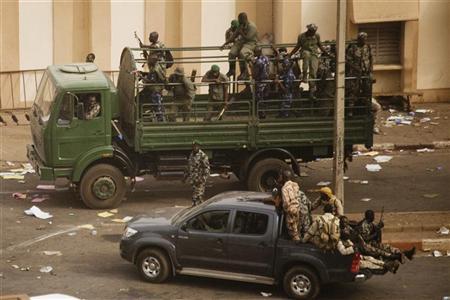 The United Nations said on Saturday that more than 92 people were killed in what activists described as an artillery barrage by government forces in the worst violence since the start of a UN peace plan to slow the flow of blood in Syria's uprising.
The bloodied bodies of children, some with their skulls split open, were shown in footage posted to YouTube purporting to show the victims of the shelling in the central town of Houla on Friday. The sound of wailing filled the room.
The carnage underlined just how far Syria is from any negotiated path out of the 14-month-old revolt against President Bashar al-Assad.
"This morning UN military and civilian observers went to Houla and counted more than 32 children under the age of 10 and over 60 adults killed," the head of UN team monitoring the ceasefire
—
which has yet to take hold
—
said.
"The observers confirmed from examination of ordinances the use of artillery tank shells," Major General Robert Mood said in a statement, without elaborating. "Whoever started, whoever responded and whoever carried out this deplorable act of violence should be held responsible."
US Secretary of State Hillary Clinton condemned the attack.
"Those who perpetrated this atrocity must be identified and held to account," she said in a statement. "And the United States will work with the international community to intensify our pressure on Assad and his cronies, whose rule by murder and fear must come to an end."
In a statement, UN Secretary-General Ban Ki-moon demanded "the government of Syria immediately cease the use of heavy weapons in population centers."
Activists said Assad's forces shelled the town of Houla on Friday evening after security forces killed a protester and following skirmishes between troops and fighters from the Sunni Muslim-led insurgency fighting Syria's rulers, who belong to the minority Alawite sect.
A British-based opposition group, the Syrian Observatory for Human Rights, said Houla residents fled, fearing more shelling. It said one person was killed in the northern town of Saraqeb when troops fired on a protest against the killing.
Syrian state television aired some of the footage disseminated by activists after the killing in Houla, calling the bodies victims of a massacre committed by "terrorist" gangs.
It also showed video of bodies with what looked like gunshot wounds to the head, sprawled on bloodstained mattresses.
Activists distributed footage appearing to show protests in Aleppo, the largest city in the north.
Families killed
A member of the fragmented exile group that says it speaks for Syria's political opposition said Assad's forces had killed "entire families" in Houla in addition to the shelling.
"The Syrian National Council (SNC) urges the UN Security Council to call for an emergency meeting … and to determine the responsibility of the United Nations in the face of such mass killings," SNC spokeswoman Bassma Kodmani said.
Although a 6-week-old ceasefire plan negotiated by former UN secretary-general Kofi Annan has failed to stop the violence, the United Nations is nearing full deployment of a 300-strong unarmed observer force meant to monitor a truce.
The plan calls for a truce, withdrawal of troops from cities and dialogue between the government and opposition.
French Foreign Minister Laurent Fabius condemned the violence as a "massacre" and said he wanted to arrange a meeting in Paris of the Friends of Syria, a group that brings together Western and Arab countries keen to remove Assad.
UK Foreign Secretary William Hague said he was coordinating a "strong response" to the killings and would call for the Security Council to meet in the coming days.
United Arab Emirates Foreign Minister Sheikh Abudllah bin Zayed al-Nahayan requested an urgent meeting of the Arab League while Arab League head Nabil Elaraby called the killing in Houla a "horrific crime."
Elaraby urged the U.N. Security Council – where Russia and China have protected Syria – to "stop the escalation of killing and violence by armed gangs and government military forces."
Syria calls the revolt a "terrorist" conspiracy run from abroad, a veiled reference to Sunni Muslim Gulf powers that want to see weapons provided to an insurgency led by Syria's majority Sunnis against Assad.
"Terrorist groups"
Ban said on Friday that recent bomb attacks may have been the work of "established terrorist groups" and urged states not to supply arms to either the government or rebel forces.
"Those who may contemplate supporting any side with weapons, military training or other military assistance, must reconsider such options to enable a sustained cessation of violence," he told the Security Council in a letter.
The United Nations has accused Assad's forces and insurgents alike of grave human rights abuses, including summary executions and torture.
Ban also has expressed fear that Syria's conflict will destabilize neighboring Lebanon, whose delicate sect-based politics has been shaken by tensions among Lebanese foes and friends of the uprising in Syria.
In the latest episode, gunmen in northern Syria snatched a group of Lebanese Shias this week as they were returning from a religious pilgrimage, deepening unrest after sectarian fighting in northern Lebanon and battles between pro- and anti-Syrian Sunni factions in the capital over the last two weeks.
Uncertainty over their increased tension in Beirut on Saturday, a day after Lebanon's top officials said the release of the hostages and their return home was imminent. Shias had blocked roads and burned tires after hearing of the abduction.
The prime minister said on Friday afternoon they had been freed but by Saturday there was still no sign of them. A member of the SNC said they still were in captivity, further angering a crowd that had gathered at Beirut's airport to meet them.