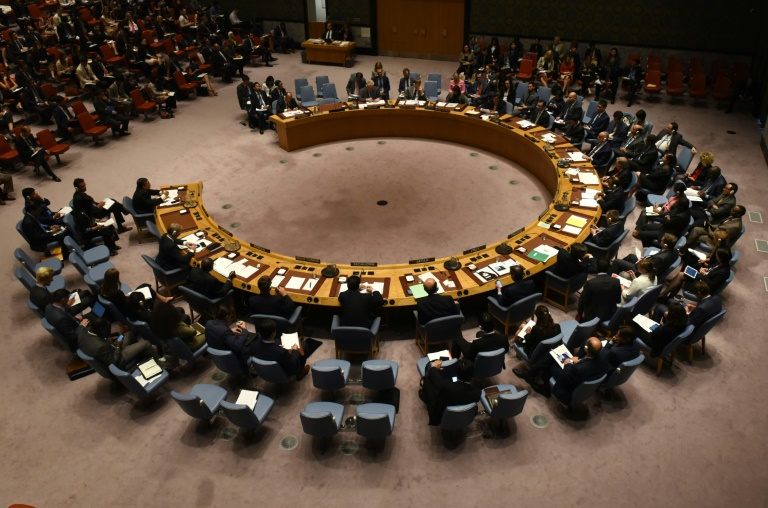 The United Nations Security Council will vote Tuesday on whether to extend an international investigation of chemical weapons attacks in Syria — a measure that could be vetoed by Russia.
The United States requested a vote on a draft resolution it presented last week that would allow the joint UN-Organisation for the Prohibition of Chemical Weapons (OPCW) panel to continue for another year its work of identifying who is behind toxic gas attacks in Syria's six-year war.
The measure is facing a possible veto from Russia, Syria's ally, which wants to first see a report due on Thursday on a sarin gas attack in Khan Sheikhun before deciding on the fate of the inquiry.
US Ambassador Nikki Haley has urged the council to "act now" to support the continued work of the panel, known as the Joint Investigative Mechanism (JIM). Its mandate ends on November 18.
The United States accuses Russia of linking the JIM's survival to its findings on the April 4 Khan Sheikhun attack.
Britain, France and the United States have accused President Bashar al-Assad's forces of using sarin on the opposition-held village, killing at least 87 people, including more than 30 children.
Last month, UN war crimes investigators said they had evidence that the Syrian air force was behind the Khan Sheikhun attack, despite repeated denials from Damascus.
"This is not about politics or the contents of the next report, but about ensuring accountability for those who are using these terrible weapons, whether they are UN member states or non-state actors," Haley wrote in a letter to fellow ambassadors last week.
– Will Russia veto? –
Russia could decide to use its veto power at the council to block the draft resolution and effectively shut down the investigation of deadly gas attacks in Syria.
The head of Russia's non-proliferation department, Mikhail Ulyanov, told UN diplomats earlier this month that Russia wants to study the report on Khan Sheikhun by the JIM to "judge if it deserves the extension."
Ulyanov said the sarin attack was most likely caused by a bomb set off directly on the ground and not by a Syrian air strike.
Haley argued that the OPCW was reviewing more than 60 cases of alleged chemical weapons use in Syria, including a recently-uncovered sarin attack on an opposition-held village on March 30.
The OPCW does not have a mandate to assign blame for the attacks, leaving that determination to the JIM.
The JIM has already concluded that Syrian government forces were responsible for chlorine attacks on three villages in 2014 and 2015, and that Islamic State jihadist group used mustard gas in 2015.
In February, a resolution put forward by the United States, Britain and France to impose sanctions on Syrian officials who were allegedly involved in those chlorine attacks was vetoed by Russia and China.
All five countries have veto power in the 15-member Security Council.