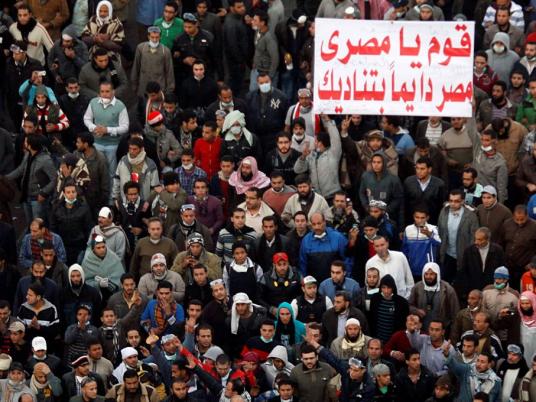 Hoping to shepherd Egypt through its democratic transition, more would-be presidential candidates are announcing their qualifications and unofficial campaigns.
A former intelligence official, TV journalist and a novelist all said they would throw their figurative hats in the ring this week.
In a press conference at the Journalists Syndicate in Cairo on Wednesday, Mamdouh Qutb, a former department director at the General Intelligence Services (GIS), said he intends to run.
State-run news agency MENA reported that Mona Prince, a novelist and translator, is the first presidential hopeful to emerge from the cultural arena. Prince, who graduated from Ain Shams University's Faculty of Arts in 1991, announced her campaign on Facebook, saying her nomination springs from a belief that the future should not be shaped by people above the age of retirement.
The English literature professor said the youth should play a role in developing society, particularly since they represent the majority of the population, are better aware of their problems and more capable of finding novel solutions.
TV journalist Ahmed al-Meslemany of Dream satellite channel's Al-Tabaa al-Oula show told Al-Masry Al-Youm that he may run for office. Meslemany said he already has the support of some students and a political party represented in Parliament, according to Egypt Independent's sister paper.
The ruling military council has said the application process for nominees will begin on 10 March. The vote is expected to be held in late May or June, with the council scheduled to announce an exact date later today.
Qutb said his platform will focus on restoring security and social reform. Press reports highlighted parts of the conference in which Qutb said he would rely on experts from different fields to help create a general action plan for Egypt that is not influenced by the president's personal agenda.
Independent daily newspaper Al-Shorouk quoted Qutb as saying that he would like to win the support of Islamist political forces given their strong political influence. Asked about his position on the 1979 Peace Treaty between Egypt and Israel, Qutb said if any treaty articles do not serve Egyptian interests, he will negotiate with Israel for "satisfactory concessions."
Qutb added that if elected, he would appoint a young vice president, citing the interim constitution which entitles a president to appoint more than one deputy.
Qutb served in the intelligence apparatus for 26 years, before retiring and joining Misr El-Kheir Foundation as relief and emergency director until he resigned on 15 February.
In January, another former intelligence official, Hosssam Khairallah, announced he would run for president, saying that the country needs a president with a military background. Former Intelligence chief Omar Suleiman has also been cited as a potential candidate, although he has not said he would join the race.
In a Facebook statement, novelist Prince said her campaign "is a product of an imagination that had been stifled over the past years."
Regarding her platform, Prince said she would decentralize the government so that each governorate would gain more independence and have its own allocations and facilities to achieve comprehensive development.
"I might let my imagination run wild and make each of Egypt's governorates a capital for one year so that each one gets enough attention at all levels."
Asked about her chances of winning the election, MENA quoted her as saying, "If I do not secure the requirements for an official nomination, then I will support the candidate with orientations like mine."
Since the fall of the monarchy in 1952, Egyptian presidents have all been prominent military figures: Mohamed Naguib, Gamal Abdel Nasser, Anwar al-Sadat and finally Hosni Mubarak, who resigned on 11 February 2011 following popular protests against his three-decade rule.
This history has sown doubt over the ruling Supreme Council of the Armed Forces' sincerity in claiming they will hand over power to civilians once a president is elected, which has been compounded by the council's general resistance to delegating power to civilians over the transitional period.
Qutb said the SCAF should be held accountable for the way it has ruled the country, according to Al-Masry Al-Youm. The idea its members would step aside without consequence is a "betrayal of the revolution and an insult to the Egyptian people," he said.