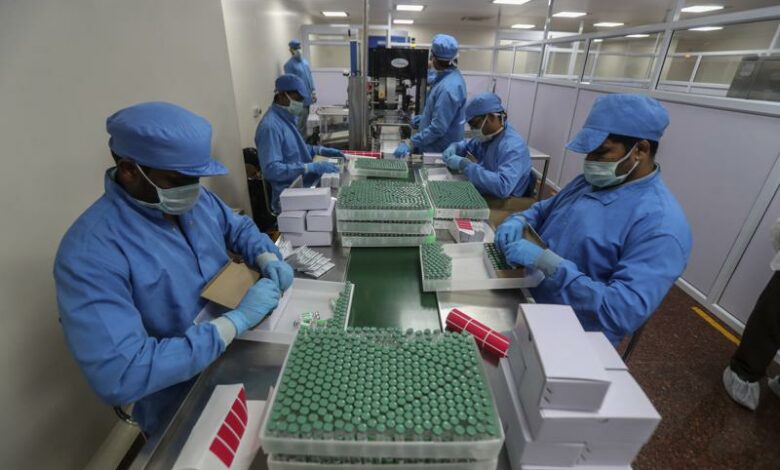 The Egyptian Authority for Unified Procurement, Supply, Medical Supply and Medical Technology Administration (UPA) announced Saturday it has secured over 46 million COVID-19 doses during the fiscal year 2020/2021.
The head of the UPA Bahaa Eddin Zaidan said that these vaccines include two million doses of the Chinese Sinopharm vaccine, one million doses of the Chinese Sinovac vaccine, and 50,000 doses of the English AstraZeneca vaccine.
It has also contracted for 20 million doses of the American Johnson & Johnson vaccine, to be supplied after two weeks, and 20 million doses of the Russian Sputnik V vaccine – the procedures for which to supply the first batches are currently being finalized.
Zaidan stated that 2.75 million doses of the seasonal four strains of influenza vaccine were also contracted, which the authority has made available for the first time in Egypt.
Egypt's vaccination campaign that began in January is still working to vaccinate medical staff, people over the age of 65, and those with chronic illnesses, but registration for the jab is open to all.
Egypt is currently using China's Sinopharm vaccine and the UK's AstraOxford vaccine.
The Ministry of Health also announced that it will soon begin producing Russia's Sputnik V and China's Sinovac vaccines at Vacsera.
The ministry reported in mid-May that it has vaccinated 1.3 million people since its campaign began on January 24, and over five million have registered on the ministry's website for the jab.
Doctors and officials continue to warn the public to abide by coronavirus precautionary measures and push for vaccination, stating that social distancing is just as important as wearing a mask.