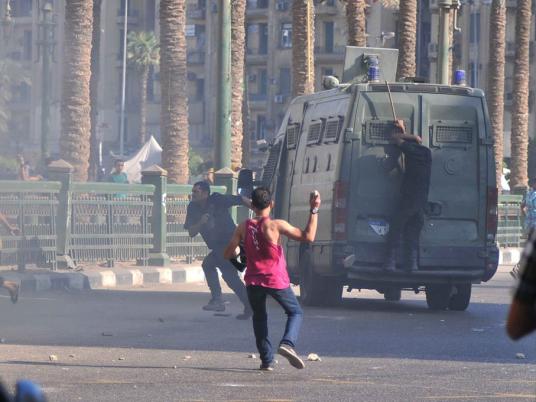 A judge ordered on Monday the release of 44 people who had been detained in connection with protests at the US Embassy in Cairo.
Ragya Omran, an attorney for the Front for the Defense of Protesters, said that procedures are going smoothly and many are waiting release. The front will continue to support all detainees until they are released, she added.
The New Cairo Prosecution detained more than 70 people for four days on Monday, pending investigations into charges of violence, resisting authoritiesdamaging public property, physically assaulting public servants and possessing bladed weapons.
Prosecutors also sent 18 minors to a juvenile prison, who have been referred for medical examinations and age verification, and then may be released.
Al-Masry Al-Youm obtained a list including 294 detainees who were investigated by the prosecution in connection with the events, 16 of whom have been released.
Investigations indicated that most of the suspects had former criminal convictions.
The suspects denied all charges and said they had been passing by at the scene of the clashes when security arrested them. Investigators claim they had thrown stones and molotov cocktails towards police officers when they prevented them from storming the embassy.
The arrests follow allegations from some individuals who said Sunday they saw people infiltrating the protests and instigating demonstrators to continue violent clashes with security forces.
Some of the detainees said during interrogations that while watching the events from Qasr al-Aini Street they were approached by unknown people who offered them LE50 to take part in the riots outside the embassy.
Prime Minister Hesham Qandil also told the BBC in an interview aired Saturday night that authorities had confirmed information that some of the protesters near the embassy had been paid to clash with security forces and to try to storm the embassy.
Violence erupted outside the US Embassy last week between security forces and protesters after a demonstration condemning a movie produced in the US that was deemed derogatory of Prophet Mohamed. The clashes left one dead and dozens injured, according to the Health Ministry.
The Qasr al-Nil Misdemeanors Court extended Sunday the detention of 11 allegedly involved in the clashes, while releasing 20 others on LE200 bail each.
Edited translation from Al-Masry Al-Youm