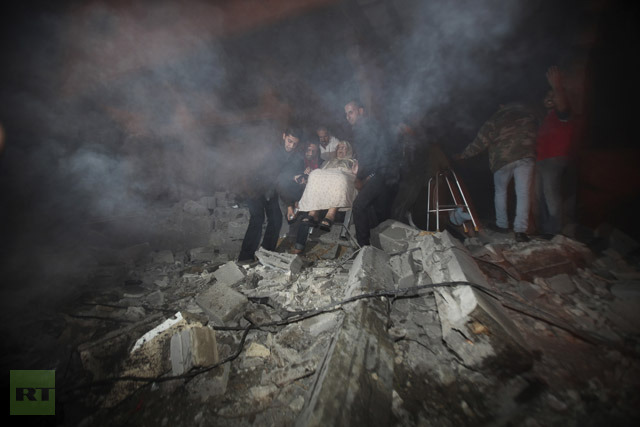 As Israel's offensive against Gaza intensifies, it has weathered censure from influential Arab powers Egypt and Qatar, as well as Russia, while other Western states are mild in their rebuke of Israel and reiterate their support for the Jewish state's right to self-defense.
Pro-Western Qatar demanded the Israelis be "punished" and the Arab League called a meeting to discuss Gaza on Saturday.
The United States condemned Hamas, shunned by the West as an obstacle to peace for its refusal to renounce violence and recognize Israel.
Hamas has said the killing of its top commander, Ahmed al-Jabari, would "open the gates of hell" for Israel. It also appealed to neighboring Egypt to halt the "barbaric" assault.
Egypt, whose new Islamist-rooted government pledged to honor the 1979 peace treaty with Israel, condemned the new Israeli raids as a threat to regional security. It called for an emergency session of the UN Security Council.
The UN Security Council did hold an emergency meeting late on Wednesday to discuss the Israeli assault, calling for a halt to the violence, but taking no action.
US and UK supports Israel's right to self-defense
US President Barack Obama on Wednesday called Morsy and Israeli Prime Minister Benjamin Netanyahu to express US support for Israel's "right to self-defense."
"The president also spoke with President Morsy given Egypt's central role in preserving regional security. In their conversation, President Obama condemned the rocket fire from Gaza into Israel and reiterated Israel's right to self-defense," the White House said in a statement.
The United States on Thursday blamed Hamas for the explosion of violence in Gaza after salvoes of rockets were fired into Israel in retaliation for the killing of the group's military chief.
"We strongly condemn the barrage of rocket fire from Gaza into Israel, and we regret the death and injury of innocent Israeli and Palestinian civilians caused by the ensuing violence," the White House spokesman Jay Carney said, quoted by AFP.
"There's no justification for the violence that Hamas and other terrorist organizations are employing against the people of Israel," he added, saying it "does nothing to help the Palestinians."
He called on Hamas leaders to stop "these cowardly acts immediately to allow the situation to de-escalate."
Carney's statement, given to reporters aboard Air Force One as President Barack Obama traveled to New York, followed a telephone conversation the night before between Obama and Israeli Prime Minister Benjamin Netanyahu.
During that conversation, Obama called on his counterpart in Israel to "make every effort to avoid civilian casualties," while stressing Israel's right to defend itself from Hamas' attacks, the White House said.
"We ask Egypt to use its influence in the region to help de-escalate the situation," deputy State Department spokesman Mark Toner said, adding that Secretary of State Hillary Clinton had spoken with her Egyptian counterpart, AFP reported on Thursday.
Reuters reported on Thursday evening that the White House says it has urged Turkey, Egypt, others with influence with Hamas to encourage Hamas to de-escalate tensions with Israel.
Meanwhile William Hague, the British Foreign Secretary, said that Hamas "bears principal responsibility" for the surge in deadly Gaza violence, saying it should cease attacks against Israel immediately.
He also strongly urged Israel to do its utmost to reduce tensions, avoid civilian casualties and help create the conditions for peace, warning: "It is imperative to avoid the risk of a spiral of violence."
Hague said he was "gravely concerned" by the situation in Gaza and southern Israel, as Israeli warplanes pounded the Palestinian territory for a second day amid fierce fighting sparked by Israel's targeted killing of a top Hamas chief on Wednesday.
"Hamas bears principal responsibility for the current crisis," Hague said in a statement.
"I utterly condemn rocket attacks from Gaza into southern Israel by Hamas and other armed groups. This creates an intolerable situation for Israeli civilians in southern Israel, who have the right to live without fear of attack from Gaza."
"The rocket attacks also risk worsening the plight of Palestinian civilians in Gaza, which is already precarious," he said.
"Hamas and other armed groups in Gaza should cease attacks against Israel immediately. I call on those in the region with influence over Hamas to use that influence to bring about an end to the attacks."
He also warned Israel that its assault, which has prompted an emergency meeting of the UN Security Council, risked escalating tensions in the region.
"I also strongly urge Israel to do their utmost to reduce tension, avoid civilian casualties and increase the prospects for both sides to live in peace," Hague said.
Russia: Israel's use of force "disproportionate"
Russia on Thursday becomes the first and only western country to condemn Israel's "disproportionate" use of force in air strikes on the Gaza Strip.
"Attacks on the south of Israel and the disproportionate strikes on Gaza — especially when civilians are killed on both sides — are completely unacceptable," Foreign Ministry spokesperson Alexander Lukashevich told reporters.
Lukashevich also criticized Palestinian militants saying that they should halt firing rockets at Israel.
The Russian official stressed that the violence was especially dangerous because it came against the backdrop of existing regional instability linked to the conflict in Syria and last year's war in Libya.
Lukashevich said Israel and the Palestinians were now pursuing a course that could lead to still further bloodshed between them while threatening to degenerate into a broader conflict.
"We strongly appeal on all the involved parties to immediately end their armed confrontation and to keep the conflict from resulting in still further bloodshed," the Russian spokesperson told a weekly briefing.
"We believe that considering the fragile situation in the Middle East and the entire North African region, such large flare-ups of violence are fraught with dangerous consequences, including in other parts of the Arab world."
Following a telephone conversation between Putin and Netanyahu, the Kremlin said, "The president of Russia called on the parties to exercise restraint and avoid the path of escalating violence, whose victims include civilians, and to do everything to return the situation to its normal course."
A second Gaza war has loomed on the horizon for months as waves of Palestinian rocket attacks and Israeli strikes grew increasingly more intense and frequent.
Israel's Operation Cast Lead in 2008-2009 began with a week of air attacks and shelling, followed by a land invasion of the blockaded coastal strip, sealed off at sea by the Israeli navy. Some 1,400 Palestinians were killed and 13 Israelis died.