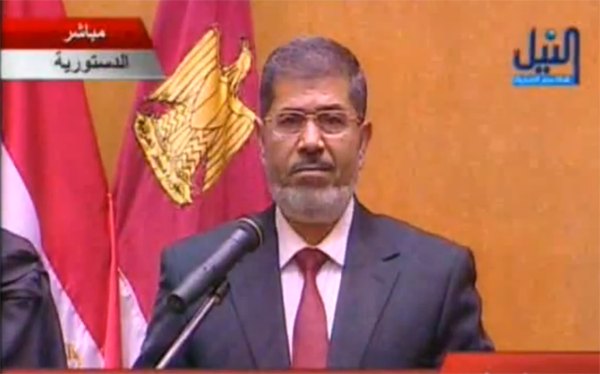 Mohamed Morsy has become officially Egypt's first Islamist president after he took his oath of office on Saturday, ending six decades of rule by former military men and becoming fifth head of state since the overthrow of the monarchy in 1952.
Morsy was sworn in before the Supreme Constitutional Court, rather than parliament as is usual. The Islamist-led lower house was dissolved by the same court shortly before this month's runoff presidential election.
Morsy took the following oath: "I swear to God that I will faithfully preserve the republican order, that I will respect the constitution and the law, and look after the interests of the people comprehensively, and that I will preserve the independence of the nation and the safety of its land."
The Arab world's first freely elected Islamist president is facing a very tough challenge as the military generals who ruled the country after former President Hosni Mubarak stepped down have already curbed his powers.
Many political forces have called on Morsy to refuse to take the oath before the SCC, saying that doing so means accepting the controversial complementary constitutional declaration the ruling military council issued this month curbing his powers.
But legal experts warned that if Morsy refused to take the oath, he would be acting against the country's formal legal measures.
Maher Sami, vice president of the SCC and one of its notable judges, began the ceremony by saying that event had "no parallel in all of Egypt's history and was created by the will of the people."
After the oath, Morsy said before SCC head Farouk Sultan and other judges, "I will look after the interests of the people and protect the independence of the nation and safety of its territory."
He was speaking in the court building next to the Cairo hospital where the jailed former president has been moved.
Morsy said a civilian and constitutional state had been "born today," in his comments after swearing the oath. The ceremony was broadcast by state media.