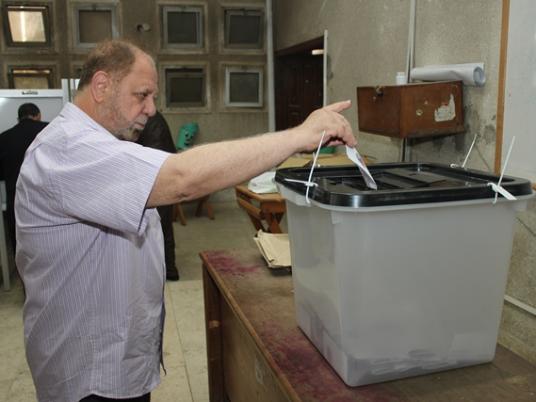 President Mohamed Morsy has issued a law officially dividing the referendum on the constitution into two stages, according to MENA.
Ten governorates will vote in the first stage on 15 December: Cairo, Alexandria, Aswan, Assiut, Daqahlia, Gharbiya, Sharqiya, Sohag, South Sinai and North Sinai. The second stage will be conducted 22 December in the governorates of Giza, Qena, Beheira, Beni Suef, Damietta, Ismailia, Kafr al-Sheikh, Matrouh, Monufiya, New Valley, Port Said, Qalyubiya, Red Sea, Suez and Luxor.
MENA had earlier announced that electoral officials had decided to stagger voting in the referendum over two consecutive Saturdays, 15 and 22 December.
The move comes after most judges have refused to supervise the vote in protest over the president's recent constitutional declaration increasing his own powers and undermining the judiciary.
Judges Club head Ahmed al-Zend said in a press conference Tuesday that 90 percent of judges and prosecutors across the country would not participate in the upcoming constitutional referendum based on a survey conducted by the club.
Prosecutor General Talaat Abdallah issued a memorandum on Tuesday appealing to prosecutors nationwide to supervise the referendum.
Abdallah, who was put in place by the president's decree, wrote that he understands prosecutors suspended their work because of the first constitutional declaration, which they felt compromised the independence of the judiciary, but said that the president replaced the declaration with a weaker one after meeting with various political forces.
Meanwhile, Egyptian expatriates began voting abroad on Wednesday on the controversial constitution. The 586,000 voters eligible to cast ballots abroad have four days to do so at designated embassies and consulates. The counting process for those ballots will begin immediately after voting ends Saturday evening, elections officials said in a statement Tuesday, after which the results will be submitted to the general elections committee and then to the High Judicial Elections Commission.
There are 51.33 million people in the national voter database after an update by the Administrative Development Ministry, which has been combing through the records on the orders of the elections commission.
The update included removing the names of the deceased, those recently convicted of crimes and people who have joined the police or armed forces, database manager Tareq Saad told state-run news agency MENA Wednesday. Citizens who were 18 years old as of 30 November, when the decision to put the constitution to a referendum was made, were added to the registry.
Voters can inquire about their electoral district through the High Elections Commission's website, by sending an SMS to 5151, by calling hotline 140, or through a smartphone application.
Most people will be voting in the same polling stations where they cast their ballots in the presidential election, Saad said, according to MENA.